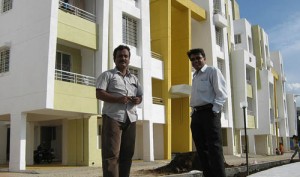 Infrastructure development firm Phadnis Infrastructure plans to invest over Rs.1,700 crore in the next five years to fuel its expansion plans.
"We have huge growth plans for India and so have planned to invest over Rs.1,700 crore in the next five years. These funds would be used primarily to fuel our expansion in the real estate, hospitality and ITeS segments," company's Chairman and Managing Director told PTI.
The company plans to invest around Rs.600 crore in hospitality and around Rs.1,000 crore in the real estate businesses, he said, adding it was also making a significant investment in its ITeS business.
"Real estate is our core business. But we also want to focus on the hospitality sector which has a huge growth potential. We plan to set up around 25 budget hotels pan-India in the next few years. We are expecting revenues of around Rs.600 crore each from hospitality and real estate businesses."
The firm, which is into construction of roads, bridges and other infrastructure projects, expecting to double its order book to Rs.1,600 crore from the current over Rs.800 crore by March 2012, he said.
"We will be bidding for various government as well as private projects," Phadnis said.
About fund raising plans, he said, "It will be a mix of internal accruals or promoter funds and debt."