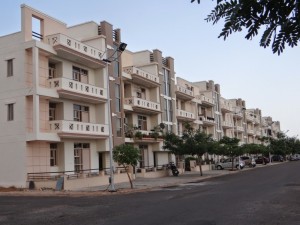 Parsvnath Developers has launches Parsvnath Aakanksha, a 2 & 3 BHK Floors in a fully functional, integrated township 'ÄėParsvnath City, Jodhpur'Äô.¬†Situated in the township Parsvnath City, spread over 120 acres, Parsvnath Akanksha offers low rise floors at an affordable price ranging from the down payment cost of Rs 16.19 lacs to the upper range of 3 bed room down payment cost of Rs 24.75 lacs.
Parsvnath Akanksha is an integral part of the township Parsvnath City, that is equipped with modern infrastructure, high-end recreational facilities and is a self-contained mini city where over 150 families are already residing. Besides this the residents of this project would also get access to Parsvnath City'Äôs well- manicured lawns/parks, broad well lit metaled roads, 24×7 security in gated community along with other numerous facilities.
Commenting on the launch, Pradeep Jain, Chairman, Parsvnath Developers, 'ÄúIt has been our endeavor to fulfill a common man'Äôs dream of owning a home in a secure and healthy environment backed by quality infrastructure. Our project Parsvnath Akanksha signals our commitment to build a better world for all and our continuous efforts to work towards achieving the goal of housing for all by 2022.'ÄĚ
'ÄúThe project being part of the fully functional Parsvnath City, Jodhpur is strategically located on Pal sangariya bypass and will have seamless connectivity to surrounding areas, an easy access to modern club, temple, 5-Star Hotels, convenient shopping and shopping malls planned in the township.'ÄĚ Jain added.
The floors are being built in GF+2 configurations where Ground Floor would comprise of 3 bed rooms and the 1st and the 2nd Floors would have 2 bedroom units.  Aesthetically designed units in the project ensure no wastage of space and abundance flow of natural light in all units.