Track2Realty Exclusive
Bottom Line: Contrary to general perception, NHB Residex shows Mumbai is quite a steady property market.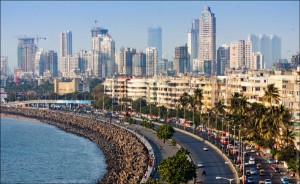 If only the statistics show a real picture then the Residex of National Housing Bank (NHB) shows the market might have offered a modest appreciation, yet Mumbai is a steady real estate market.
The NHB data accessed till March 2015 shows how historically (since 2007) this market has not been witness to any sharp fall in terms of the pricing index. This is a huge endorsement keeping in mind the downward cycle of the Indian economy in general and country's housing market in particular in the said period.
Of course, on a micro look the trend is location specific and while certain locations have outperformed quite a bit there are other locations that have been hit with price correction. But overall estimate of the city property market is steady. In the last four quarters, the real data of the said period might not be available with the Residex, what can be vouchsafed at this point of time is the fact that the trend is more or less the same as it has been till march 2015.
Quick bytes
Mumbai market along with Pune more steady than other top cities
Modest appreciation at a macro level; each micro market showing different trend
Projects coming up near new infrastructure developments witness to sizeable appreciation
Appreciation potential more with upcoming locations compared to established markets
Different opinion on price index
Parth Mehta, Managing Director, Paradigm Realty feels concerned when he says that over the last one year Mumbai has witnessed very digressed price trends across the city. He maintains that in certain suburbs prices have gone higher due to lesser availability of under-construction and ready stock, whereas in certain areas the volume of sales has increased where there has been higher supply of inventory but prices have not gone up.
"Mumbai is a very location specific market. Certain premium locations like in South Mumbai areas such as Walkeshwar, Carmichael Road, Worli sea-face and in Suburban areas like Juhu sea-face, Carter Road, Bandstand, prime location of Kandivali & Borivali (W) which are dominated by more of business centric population governed by lesser supply of under-construction and ready goods will indeed have price appreciation," says Mehta.
Vineet Relia, Managing Director, SARE Homes believes that over the past few years, uncertainty around development plans and government approvals has created stagnancy in the overall real estate market. This has largely affected the two biggest drivers of real estate in India, Delhi and Mumbai. However, some of the recent announcements made by the state and central government have given a thrust to the real estate market of Mumbai. As per the recent reports, all these announcements have improved customer sentiments and impacted sale of properties in the areas surrounding outer Mumbai such as Thane and Navi Mumbai.
"In areas like Navi Mumbai and Thane property sales have increased as compared to last year. However, overall the city is experiencing a steady fall in new launches. According to the Knight Frank report, there was a 23 per cent decline in new launches in H2 2015, compared to H2 2014. During the second half of 2015, sale of housing units dropped by 6 per cent year-on-year and clocked slightly more than 34,000 units," says Relia.
Price index location specific
An optimistic Kedar Joshi, CMO Ahuja Constructions nevertheless asserts that Mumbai market has shown a steady growth in the last four quarters, especially during the festive occasions there has been a considerable investment from buyers in the real estate market due to attractive offers and schemes. Buyers seeking homes are playing a wait and watch approach for a while, and are looking forward to make investments in the areas that offer good quality infrastructure and effective connectivity to all parts of the city.
"The price trend seen among buyers in Mumbai's realty market is very location centric. A considerable demand pull is especially seen towards the central suburbs like Sion, Ghatkopar and Chembur which are the latest entrants into the location-centric investment run. A steady and positive movement is seen in the price trend particularly being focused on the upcoming and emerging urban sprawls," says Joshi.
Sandeep Ahuja, CEO, Richa Realty, on the contrary, feels that in the last few quarters the overall prices have come down and are now stagnated at current levels. The fall in many micro markets in last four quarters has been between 7-18 percent.
I don't see an upward trend for the next 2-3 quarters. Developers are still sitting on high inventory levels and would like to clear that before raising prices. We expect the absorption levels to improve in next few quarters and post that price appreciation. Markets with intrinsic demand, restricted future supply levels and infrastructure development will see maximum price advantage," says Ahuja.
Micro markets in demand
This raises a fundamental question as to which are the locations that hold more potential. Experts believe any locality is pre-dominantly governed by the infrastructure, demographics, proximity to main highways, railway stations & schools shall alternately command better appreciation.
Developers are also getting smart to identify the potential and are launching projects near the upcoming infrastructure developments like metros and monorail projects. The upcoming Phase-II of Mumbai Metro involving the stretch of Dahisar-Charkop-Bandra-Mankhurd is one such infrastructure development been looked upon. The project has in particular brought a demand leap in the nearby regions like Oshiwara.
The price trend in Mumbai clearly indicates that infrastructure projects located around Sion, Jogeshwari and Oshiwara seem to be altering the real estate landscape in many ways.
In Central Mumbai locations Ghatkopar, Powai and Vikhroli have already been witness to more than average appreciation due to better connectivity and upcoming commercial parks. Other micro pockets which might see price appreciation include locations near proposed metro corridor on Western Express Highway, Mulund, and Dadar in South – Central Mumbai belt.
The property markets in areas such as Thane, Panvel, Dombivili etc. continue to remain the top investment destinations in Mumbai. With improving connectivity, government's efforts to push stalled projects and increase in corporate interest in these areas, there is likely to be an uplift in residential market sentiment along with an improvement in social viability of the region.
Also, Bandra continues to be a luxury residential hotspot in Mumbai. The area remains a preferred destination for prime property seekers because of its elite profile more options for shopping and higher recreation facilities; thus attracting price appreciation.

Infrastructure calling card
With the JVLR freeway offering connectivity to areas like Bandra and South Mumbai, Western Suburbs such as Oshiwara are fast developing into a good investment option for people who are seeking to draw out maximum potential out of a property. Projects like the elevated road on Thane- Ghodbunder Road are also expected to change the real estate market dynamics.
The final nod for the International Airport at Panvel and proposed SEZs at Dronagiri, Ulwe and Kalamboli will give impetus to the property market in surrounding areas which are now expected to witness growth. Both these developments will give fillip to commercial and residential market in the adjoining areas. While property rates in main Mumbai are no longer within the reach of those who are looking for homes at affordable price, Navi Mumbai has shown an impressive growth with residential housing which are within the budget.