Track2Realty Exclusive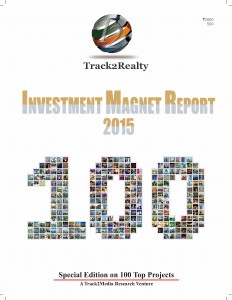 A house hunt has always been tedious and challenging for anyone in this country. Imagine the travails of finding 100 apartments to live in. Yes! This has been the thought process when the editorial team of Track2Realty embarked on a journey to find 100 best housing projects relevant for investment in the year ahead.
Like anyone else on a house hunt, we were also carried with mixed dose of emotion and rationality.  It has been an emotional journey as we had put ourselves into the shoes of an average investor. Of course, the journalistic rationality was always there to be objective.
We started the screening process with a carefully researched list of 500 projects. It was further narrowed down to 300 and then we did realise that an objective analysis would be heavily tilted towards a few best performing markets at this point of time. That would have probably defeated the very purpose of this study, as we wanted to come out with a pan-India report.
Therefore, an element of editorial discretion, which can be called subjectivity, was applied once the list was narrowed down to 200 housing projects. After a series of deliberations it was decided that in order to give a pan-India perspective it is imperative to put a cap over the number of projects that can be featured from one given market and projects of one particular developer. Failing this, the report might have given the impression of our endorsement to a few best performing developers at the moment.
Thereafter, it has been a challenge to define the scope of study. Being the first journalistic initiative of this kind, we did not have any precedence to look into. After rounds of discussion we could finally develop ten metrics that would be benchmark of evaluation. These are:
Location & Aspiration
Physical Infrastructure
Social Infrastructure
Appreciation Potential
Competitive Advantage
Rental Potential
Launch2Sales Ratio
Construction Quality/Timelines
Livability Index
ROI Cycle
Even though we practically covered all the aspects that a prospective investor or homebuyer would look for, we resisted the selection of top 100 at this point in an organic manner. We were conscious of the fact that statistics cannot be the only indicator. Reason being that an investment is a complex process in India's housing market where the transparency is lacking and absence of reliable data adds to the confusion.
We rather felt that the ten metrics may or may not do justice to the actual performance of the project. Raw data can also be misleading when it comes to look & feel and usage of the high value product like a house.
For example, while launch2sales ratio is a metrics where we weighed lesser to the projects that are weathering slow sales, we have to be equally conscious of the fact that very high sales ratio to the extent of project being completely sold off would be of no interest to prospective investors. We are hence not claiming that our list of top 100 projects is top 100 at large. What we maintain is that in our study these are the top 100 projects worth investing as of now.
Similarly, since we are addressing more to the institutional investors, HNIs, NRIs and other financial institutions, our tilt has been slightly more towards the premium and high-end projects. It has been more so in those markets where the high-end investors are looking forward to invest for luxury living. In some of the performing Tier II cities, we have lowered this benchmark to weigh higher to affordable housing projects as well.
Another point of contention for us had been the challenge to deal with the pre-launched projects that are selling at a brisk pace. As a thumb rule, we decided to only consider those projects in pre-launch stage where the reliability of the developer has been pretty high; the kind of market credibility that manages to evoke confidence among investors' to invest.
We have otherwise mostly focused on the projects that are close to completion, and have been witness to the first round of appreciation and high performance. The idea obviously has been to clear the clutter around execution risk.
It has indeed been a fascinating journey for our researchers. Never before in the history of Indian real estate such an analysis of housing market was done like this. Both the developers and the realty media are known to mutually appreciate each other with marketing supplements. Track2Realty has breached that convention and our top pick is purely on editorial merit; something that is now quite accepted (even though critically) by the sector.
Needless to say, Track2Realty does not look at the developers as their target readers. We are rather focused to have our readership base with the institutional investors, NRIs, HNIs, financial institutions etc. who are looking for reliable data and study on the Indian housing market. This study of 100 top projects is hence aimed at coming out with authentic housing market report in an information-starved sector.
Series of top 100 projects' review to continue…