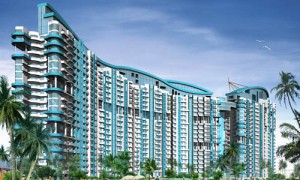 Track2Realty Exclusive: Noida has defied the conventional wisdom of economics of late, thanks to the new found interest of the multinational corporations (MNCs) and the NRIs. This is due to the fact that the investment pattern of these two demand drivers have so far been guided by the conventional wisdom of economics that suggests to put money in a relatively mature market, and that too when the macro economic outlook is bright and the sentiments bullish.
However, Noida that has not yet matured as a safe haven for the big brands is attracting big ticket investments at a time when there are macro economic issues and sentiments are bearish. That itself indicates the inherent potential of Noida which has just started taking a tectonic shift from being a mere destination for affordable housing.
Ramesh Sharma (name changed on request), a UK returned NRI has invested in one of the luxury projects in Noida and is now searching for a quality office space to set up his IT consulting business. He categorically says the reason for settling in Noida (and not Gurgaon or Mumbai) is not just the quality of life but his reservation with the overheated property market.
"With the kind of gloomy economy that looks imminent, the over heated and so-called settled property markets will be the first to collapse and not the one where the growth has just started. I may not get the kind of appreciation or ROI that I have been promised in Noida, but my understanding is that at least this market will sustain at this price point. After losing my job and a major share of savings in UK, I can't afford any other risk," says a candid Sharma.
Market watchers by and large agree with the take of this NRI maintaining that with the number of innovative luxury/theme projects, sky scrapers etc been launched by different developers, Noida has by far attracted the interest from many foreign players and Non Resident Indians (NRIs). The booming IT, ITeS sectors of fast flourishing Noida have certainly played a crucial role in bringing the commercial real estate scenario in the city.
The city gears up a new pace for urban modern life in the wake of recent as well as upcoming construction activities. So, with better infrastructure and world class projects, Noida offers the most elite experience of living to NRIs, who are scouting the western environ to settle back in the country.
Vishwanath Agrawal, CMD of Techman Buildwell says Noida is considered to be far better in terms of connectivity & infrastructure. Gurgaon used to be one of the most preferred destinations for MNCs/BigBrands, but there is a shift in thought process. Lot of MNCs are setting up their offices in Noida. The city is fast emerging as a good place for investments. Rising demand from IT and BPO sectors in Noida has led to an unparallel increase in capital values for its commercial spaces in recent years.
"NRIs prefer to invest in places where there is large presence of corporate houses. Noida has been performing better than Gurgaon on that front. Now F1 track is there and freight corridor is aligned to pass through there. Particularly real estate development around Yamuna Expressway has been attracting NRI attention. In fact, some projects have either been developed with "NRI" in its name or keeping in mind their taste and necessities," says Agrawal.
Demand for commercial properties in Noida is also increasing. Today quality office space is also not an issue in Noida. Agrees Tarun Shienh, CMD, Premia Projects that MNC and big brands are attracting towards Noida and Greater Noida Noida because it is planned city. And the upcoming government policies will give global presence in terms of facilities. It is well connected to national capital, land costs are cheaper than Gurgaon, and water levels are high. The city will get global presence because of its infrastructure and facilities and green area. Corporate areas are not defined in Gurgaon and in Noida it is well planned and defined. So, NRI are now preferring Noida over any other micro market in the Delhi-NCR region.
"Noida offers lucrative investment prospects for NRIs, and ensure them to love themselves to have taken the decision to invest in Noida properties. Needless to say, NRIs today are one of the most potential and affluent class in the global economic scenario. For that reason, the city throws several options for NRIs to invest across all types of real estate depending on the size, risk factors, and ease levels. So, it stands as a good deal for them," says Shienh.
Sumit Bharana, Director, Era Landmarks says that with the downfall of the Indian rupee, many NRIs have increased their investments in the Noida real estate market, keeping in mind its progressive nature. The luxury projects in Noida have witnessed the major investments from the NRI pockets. NRIs who have been earning in foreign currencies, most of them being strong against the Indian Rupee yield, have enough possible reasons for investment in Indian properties. A large number of NRIs who have financing options are investing and borrowing property in India at low rates.
"While existing properties have seen good appreciation in the last few years, some of high-end projects by top realty players are entirely going to change the commercial scenario. The projects in Noida and Greater Noida is picking up pace. With the proposed metro link and the existing connectivity with Delhi, Gurgaon, and Faridabad, it is no secret that Noida is seeing a huge development potential in the commercial infrastructure. Thus, the need for commercial projects is growing each day," says Bharana.
NRIs have realised that market fluctuation and uncertainty is going to be a reality in the next few years and hence the pragmatic option is to look for the home market. The depreciation of rupee against dollar adds fuel to the fire of investment in real estate. Now since Noida offers quality projects, at affordable prices, with prospects of better ROI, the investors are just grabbing the opportunity. Prima facie what seems to be defying the conventional wisdom of economics is actually the driving force of economic security in Noida.