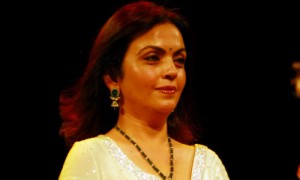 Mukesh Ambani's wife Nita Ambani and his associate Manoj Modi joined the Board of Directors of EIH, the parent of the Oberoi Hotels chain that includes Calcutta's Grand Hotel, on Monday, Oct 31.
This is the first time that Nita Ambani is joining the board of any listed company.
Last August, the Ambanis had sprung to the rescue of 81-year-old Oberoi Hotels' patriarch Prithvi Raj Singh (Biki) Oberoi by picking up a 14.8 per cent stake and warding off a takeover threat from cigarette-to-hotels conglomerate ITC — the other dowager of Chowringhee.
Nita Ambani and Manoj Modi have joined as non-independent, non-executive directors on the Board, which means they will not be looking into day-to-day affairs.
The move to induct the Reliance representatives into the Board sends out the strongest signal to ITC, which has been stalking the hotel chain ever since it picked up a stake in EIH about a decade ago.
The offer of two Board slots to representatives from the Reliance Group cements the close relationship between the Oberois and the Ambanis.
At the EIH shareholders' meet in Kolkata in August, Biki Oberoi had termed Reliance as an "important and friendly shareholder" in the company.
Renu Sud Karnad, Managing Director of India's largest mortgage lender HDFC Ltd, and Robert Henry Burns, a veteran hotelier, also joined the EIH Board as independent directors.
In the past few years, Nita Ambani has adopted a more visible role, notably at Mumbai Indians, the IPL cricket team that the Reliance Group owns. She also represents the Reliance Group on the board of IMG Reliance Pvt Ltd, which is an equal joint venture between Reliance Foundation and global sports marketing group IMG. The venture aims to build sports infrastructure in India.
She is also the Chairperson of Reliance Foundation, the corporate social responsibility arm of India's largest private company both by revenues and market capitalisation.
Modi has generally been regarded as Mukesh Ambani's trouble-shooter and is a Director at Reliance Retail, the unlisted entity that has forged relationships with several global brands ranging from menswear Ermenegildo Zegna to Marks and Spencer's, and from Diesel to Timberland.
The Ambanis — who moved into the 27-storeyed Antilla at Mumbai's tony Altamount Road recently — are believed to have used the services of Oberoi Hotels to train the retinue of 600 household staff at the world's costliest residence that is valued at about Rs.5,000 crore.
The EIH move opens up a tantalising question now. Will the Ambanis raise their stake in EIH?
Market regulator SEBI amended its takeover code last month under which it raised the threshold for an open offer to minority shareholders to 25 per cent from 15 per cent earlier.Since the Ambanis held 14.8 per cent in EIH, they had no real headroom to acquire more shares.
The takeover code came into effect on October 22 — giving the Ambanis the opportunity to raise its stake if the two sides can agree on this. An acquirer must make an open offer for 26 per cent of the outstanding stock if he crosses the 25 per cent threshold. Earlier, the open offer was limited to just 20 per cent.
ITC — which holds 14.98 per cent in EIH — may also be tempted to raise its stake in the hotel chain.
Apart from hospitality, Reliance and EIH are working closely on developing premium realty properties. EIH is planning to use land in Bangalore and Goa for mixed use development with Reliance, Oberoi had said in August.
It owns 8.2 acres of prime property in Bangalore and 55 acres in Goa. It intends to build a 250-room hotel and 60 luxury apartments in Bangalore. In Goa, EIH plans to build a 100-room hotel and villas.