By: Prameet Narula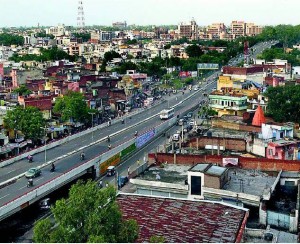 Track2Realty Exclusive: Real estate development along highways and expressways is an established reality of India's urban growth, yet a few have been trend setters. These are the territories which have been investment magnet much before being fully developed. National Highway 24, popularly known as NH 24 that connects the national capital Delhi to Uttar Pradesh capital Lucknow running 438 kilo meter in length is one such highway which is being seen as the new growth corridor of north India in general and Delhi-NCR in particular.
What actually makes NH 24 different from other National Highways? This can not be answered with credit to any one factor. As a matter of fact, a combination of factors has collectively elevated NH 24 as a premium National Highway worth investment. Be it residential developments or the mushrooming small and medium enterprises, the stretch has something to offer for all. The best part is the affordability while being close to all the major landmark destinations of the Delhi-NCR.
NH 24 has the locational advantage, added with the fact that the Ghaziabad Development Authority made sure that the land is released at a price point to keep the region most affordable in the Delhi-NCR region. As a result, social infrastructure also shaped well along the stretch with many schools and hospitals coming up. Moreover, Public Private Partnerships in the region (PPP) has also taken off well. As a matter of fact, in one of rare cases of different developers coming together, a mega township has emerged along NH24. The township called Crossings Republik has been developed by a syndicate of seven builders including Gaursons India, Assotech, Mahagun, Suptertech, Paramount, Ajnara and Panchsheel groups on about 360 acres.
Prima facie it seems that the journey of NH 24 on a fast forward track has just started. The government has some ambitious plans that can change the urban landscape in this part of the world. It is not just widening of the NH 24 to 14 lanes but also the kind of state-of-the-art mega township projects that are in the pipeline. Ghaziabad Development Authority Vice Chairman Santosh Kumar Yadav recently said that there is a 600-acre land bank with Awaas Vikas across CISF headquarters, which is virgin land located in an area called Siddharth Vihar and is as big as Vaishali. According to him, the direction of residential growth in Ghaziabad will now change.
The Ghaziabad Development Authority is now constructing a new ring road, also to be called Northern Peripheral Road. This will start from NH 24 near Dasna toll, move towards NH 58, connect the Pipeline Road, Hindon Air Force station and culminate at Delhi's Wazirabad Bridge. This is a six-lane ring road sanctioned under the PPP mode, 13 major bidders from the country are bidding for this project, including one from Mumbai and one international bidder from Oman.
According to reports, at least Rs. 200 crore is being spent on land acquisition for the Northern Periphery Road. In this case land is being bought by Ghaziabad Development Authority and the construction of the road will cost at least Rs. 500 crore. This means that from then on anybody can enter Delhi and cross over this stretch in just about 25 minutes. This stretch will be on an embankment and not on the ground like NH24.
Developers are naturally elated with the prospects of the stretch and they believe the emergence of NH 24 as the new growth corridor will revive the real estate market across the Delhi-NCR region. Gaurav Gupta, Secretary General, Raj Nagar Extension Association and Managing Director of SG Estates says not very long ago considered a hinterland, the whole stretch has transformed into a significant realty growth corridor. The area has excellent connectivity with Ghaziabad, Raj Nagar Extension, Noida and Delhi; making it the next promising destination for end users.
'ÄúThis stretch promises a lot for customers who are looking for an affordable house. Many developers are coming up with projects on this stretch to meet the burgeoning demand of the middle-class buyers. The best thing about this location is the buyers have a bouquet of options to choose as per their pocket convenience. These options are very few in places like Gurgaon and Noida. The location has a good potential owing to proximity to Delhi along with superlative highway connectivity which is the impetus for demand for the end-users. Places like Kaushambi, Crossings Republik etc, have recorded manifold price appreciation due to their connectivity with NH-24,'ÄĚ says Gupta.
Navneet Bhadla, Director of Brys Group says real estate is by and large sentiment driven and naturally when the developers and the buyers find that there is intent of the government to take the region to fast forward mode of development then it has a chain effect on the prospect of the entire market in and around. According to her, NH 24 is also the lifeline of many small and medium enterprises (SMEs) and the big ticket corporate entry of late clearly indicates the region has become a traction point for the developers.
'ÄúAfter all, NH 24 is connecting the entire east coast region of Delhi-NCR and the proposed plans augur well for the sector and overall economy of the region. I have always maintained that development along the highways that cater to many micro markets in and around is the way forward to revive the real estate market which will eventually contribute to the revival of the economy of the region. Having said this, let me add here that there are very few highways that has as good promises & prospects as the NH24,'ÄĚ explains Bhadla.
Locations like Indirapuram and Crossings Republik are ideal locations along the stretch of NH 24 for those who want affordable houses while working in the major business destinations of Delhi-NCR. As of now, it has well connected access to Delhi and Noida. The Northern Periphery Road will further connect it to Gurgaon as well. And that makes areas in and around NH 24 an ideal location with affordable housing options galore.