News Point: Housing demand across key cities declined by 31%; new launches declined by 40%.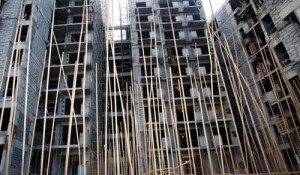 Housing demand crashed across top 8 cities in the fourth quarter of 2016 post demonetisation of INR 500 and INR 1000 currency notes by the Reserve Bank of India to curb black money, claims a report by PropEquity.
Housing demand (absorption) across key cities declined by 31% largely on uncertainty post demonetisation which led to very few transactions materializing in both primary and secondary market.
As expected, new launches fell by 40 per cent as developers across cities are waiting to gauge the true extent of demonetisation impact on real estate before launching any new projects, they now expect market to stabilize post union budget announcement providing some relief especially in the affordable housing segment.
Eight cities were included for the study including Gurgaon, Noida, Mumbai, Kolkata, Pune, Hyderabad, Bengaluru and Chennai.
Also during Q4, 2016, cities with significant inventory overhang have seen slight contraction in prices as developers were compelled to reduce prices to clear off high inventory. NCR cities i.e. Gurgaon & Noida exhibit this trend to a great extent.
'ÄúReal estate sector in India, especially housing is going through a critical transition phase post demonetization as transaction activity has slowed down considerably. Many buyers, sellers, banks and private equity investors are waiting for the budget announcement as they expect some major positive news from the govt. to boost real estate sector. In our view, the RERA implementation, Benami Act and further push for smart cities across India will bring major respite to the ailing realty sector. Going forward, developers with good track record, strong financials and low leverage to external debt are expected to bounce back quicker,'ÄĚ Samir Jasuja, CEO at PropEquity said.
The report further states that average prices of unsold units almost remain stagnant at Rs 6,683 per square feet as buyers and sellers delayed their decisions.
MARKET INDICATORS (Top 8 Cities)-APARTMENTS
Q4 2016
Q3 2016
QoQ %
New Launches (Units)
16,636
27,696
-40%
Units Absorbed

(Total Market)

26,718
38,450
-31%
Wt. Avg. Price

(Unsold Units)

6,683
6,703
0%
Unsold Stock (Units)
4,53,592
4,59,067
-1%
Going ahead, the recent budgetary announcement to grant industry status to affordable housing will surely provide ample push for this segment in India, a key initiative under Housing for All. Developers having projects in the affordable segment will benefit greatly with this announcement.
Cities
Gurgaon: During Q4, new launches nosedived at just 64 units a drop of 95 per cent from the previous quarter. Even absorption declined over 30 per cent at just 938 units. Gurgaon continues to be in a deep distress as the market is witnessing a significant contraction in both demand and supply due to demonetisation. Total Absorption during the quarter was the lowest over the last 6 quarters. Notably, the market has been severely impacted due to lack of investor's activity and any growth catalyst.
Noida: Noida also saw a decline in new launches as it dropped 94 per cent to just 75 units. However, in this quarter, Noida also saw 2,000 units getting completion certificate (CC) by Noida Authority, majority of them being in markets like Central Noida & Noida Expressway. Prices in this region remained stagnant.
Mumbai: Mumbai continues to see contraction in demand and supply of housing units. New launches in Q4 did see a rise of 21 per cent, however majority of it was in the month of October with hardly any launches in December.
Kolkata: Kolkata saw a significant fall (71%) in new launches as demand has fallen to its one of the lowest levels in years largely due to poor fundamentals of new launches & lack of investors interest. Overall demand also remained under stress, declining by 24% due to weak end-user demand. 
Hyderabad: Hyderabad market was less severely impacted as new launches fell by 20 per cent and absorption by 31 per cent. For the next quarter, demand may slightly pick up as projects from reputed builders with good fundamentals have hit the market in the recent past.
Bengaluru: This market saw 46% decline in new launches, while dip in demand was at 30%. Gong forward, development of few IT Parks in several southern, eastern and south eastern peripheral locations may give a boost to residential sales in these areas.
Pune: Pune was least impacted by the recent demonetisation as new launches just fell by 7 per cent. However, absorption fell by 32 per cent indicating low interest from buyers who are withholding their buying decisions for the next few months.
Chennai: New launches in Chennai were reduced to mere 1,469 units during the quarter. Absorption was down 32% through no significant change in launch supply as compared to previous quarter. Unsold stock saw a marginal dip of 1%.