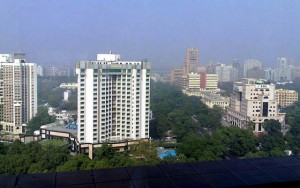 Track2Realty Exclusive: What is the level of understanding and willingness among the Indian developers to create smart cities in a country which has been branded as a 'Äėreluctant urbaniser'Äô by many international experts?
Shailesh Puranik, Managing Director, Puranik Builders believes an active involvement of the state government and the local bodies is imperative in promoting smart buildings in India. With the government of India launching Energy Conservation Building Code (ECBC) under the National Building Code and Standards for the promotion of green buildings in India, many prominent developers are making efforts to construct smart buildings.
Puranik, however, asserts there are no statistics regarding India'Äôs lagging behind in the global standard. He prefers to talk about the practical problems. 'ÄúCost of construction is the major issue for smart buildings. The cost of construction materials is also relatively high. To reduce the initial cost of construction, developers can be provided with various incentives in the form of tax rebates, interest rate subsidies etc. Tax incentives can boost the construction of smart buildings,'ÄĚ he says.
Jennifer Layke, Director of US-based Johnson Controls' Institute for Building Efficiency seems to agree with this when she says Indian realty has positive outlook but barriers exist across the board.
According to her while India is following the global trend in green buildings, energy management is also ranked higher than many other countries here. She, however, refutes the perception that construction cost is huge issue for mid-size Indian developers in implementing smart buildings.
'ÄúI think that one of the things that we have found has actually begun to contradict that there are more expensive buildings as a result of pursuing highly efficient or green buildings. What we have actually found is that through integrated design, we can often bring cost out of the building. In India I think the indication of an interest and the opportunities that are presented and the kind of costing and the policy initiatives that are underway, means that there is tremendous interest in moving forward with energy efficiency and I think the challenge is overcoming those barriers,'ÄĚ says Jennifer.
Sunil Dahiya, Managing Director of Vigneshwara Developers and Sr Vice president of industry body NAREDCO is more candid when he says that the old age real estate has resulted in frustrating the living of today's consumers. It has been seen that the main reason for divorce today, more than "in-laws", are pressures of financial/professional and social imbalance. Advocating smart living concepts like SOHO (smart office home office) he suggests smart living can take this load off, by coming upto the expectation off from personal dependency to specialized human resource based delivery model.
'ÄúAn average young double income group is traveling almost four hours on the road daily and hence after performing eight hours in office actually very less time is left for kids & family. Here, mostly the real estate is the villain in causing that marital discord, not many have realized, actually. ¬†The above imbalance could be bridged by smart living. viz; 'Äėthe real estate should give life to us, than take our lives'Äô. It needs to come upto the expectation of the consumer to take maximum load off their shoulders. Small aspects like, personal availability for courier, grocery, gas, child day-care and receiving the guests and their look-after, etc. Most of the times, the onus to be available for these petty aspects falls on the lady spouse. The imbalance crops in, when the lady wants to enjoy professional freedom and it is interpreted at the cost of compromise from the above expectations,'ÄĚ he says.
…..to be continued