Location: Thanisandra Main Road, Hebbal Ring Road
Project type: Apartment & Villas in Township
Price: Rs. 85 Lakh-3.8 Crore
Project execution lifecycle: June 2011-May 2018Â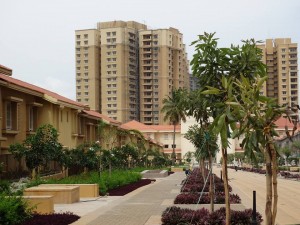 This is one of those projects that can elevate the attraction quotient of the location. Based on the Mediterranean theme, this 36 acres township has the kind of amenities that could make any developers' marketing brochure a temptation to buy.
This is the kind of luxury living offering that has made Sobha standout as India's leading real estate brand today with luxury being their calling card. All the residential apartments here are based on the Mediterranean themes, like Casa Serenita, Casa Paradiso, Santorini and Aristos.
The traction point and aspiration level with this project has been so high that despite of some bad press to the project in early days (due to cremation in the neighbourhood) the launch2sales ratio of the apartments in Sobha City has been higher than the competing projects in and around the location.
After all, the area is surrounded by the magnet called employment where IT SEZ located on the Outer Ring Road and close to Hebbal is home to companies like IBM, Target and Cognizant. This micro market has many attraction quotients today and Sobha City is on top of the aspiration level of high-end homebuyers.
Track2Realty Rating: A+
Location & Aspiration: 8/10
Physical Infrastructure: 6/10
Social Infrastructure: 5/10
Appreciation Potential: 7/10
Competitive Advantage: 8/10
Rental Potential:6/10
Launch2Sales Ratio: 8/10
Construction Quality/Timelines: 8/10
Livability Index: 7/10
ROI Cycle: 7/10
For full report grab a copy of Track2Realty Investment Magnet Report 2015