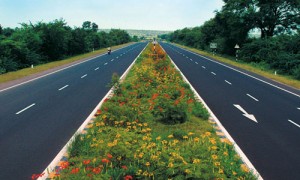 Hindustan Construction Company (HCC) today said it has bagged two major contracts worth Rs 1,534 crore in various business segments including one in Jammu & Kashmir for construction of a tunnel.
"The first order is for the construction of a 10.2 km tunnel on the Udhampur-Srinagar-Baramulla railway line in Jammu & Kashmir…This contract is worth Rs 884 crore and will be completed in 60 months," HCC said in a statement.
The tunnel contract on the Dharam-Qazigund Section in the state has been given to HCC by IRCON International Limited, which is engaged in constructing the Udhampur-Srinagar- Baramula railway line, the company said.
This will be the second largest tunnel in India after the 10.96 km long Pir Panjal Tunnel between Qazigund to Banihal in Jammu and Kashmir, which has also been built by HCC. The tunnel is nearing completion.
"The second is an EPC (engineering, procurement and construction) order for expansion of a section of the National Highways-8 between Vadodara and Surat, which also includes the construction of an extradosed bridge across River Narmada," the company said.
The order, with a value of Rs 650 crore, is a contract from HCC Concessions, a step down subsidiary of HCC.
This contract was awarded to HCC Concessions by the National Highways Authority of India in April this year for the six-laning of a section of NH-8 between Vadodara and Surat, the statement said.
The scope of work also includes the construction of a new four-lane extradosed bridge across the Narmada River in Gujarat on a DBFOT (design, build, finance, operate and transfer) (Toll) basis, it added.
Work has already commenced on this project, and is scheduled for completion in 36 months.
The company claimed it has executed a number of India's landmark infrastructure projects.
This included constructing 25 percent of Hydel Power generation, over 50 percent of country's Nuclear Power generation capacities, over 3,100 lane km of Expressways and Highways, more than 200 km of complex Tunneling and over 324 Bridges.
HCC's other projects include the Bandra Worli Sea Link, Mumbai – India's first and longest open sea cable-stayed bridge; the Kolkata Metro, Farraka Barrage and India's largest nuclear power plant at Kudankulam – Tamil Nadu, it said.
The group, which comprises HCC, HCC Infrastructure, HCC Real Estate, Lavasa Corporation and Steiner AG in Switzerland, has a turnover of Rs 8,157 crore.