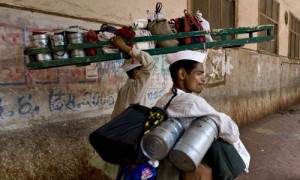 The management skills of Mumbai's dabbawalas (tiffin carriers) will be in focus at the Global Initiative for Restructuring Environment and Management (GIREM) conference to be held in Goa between September 29 and October 1. Amongst the various high profile case studies planned for the conference, there will be a special session on 'A Case to Study' to be presented by Dr Pawan G Agrawal, CEO of Mumbai Dabbawalas Association, organisers said.
"The conference will share the innovative approach adopted by dabbawalas as a company, to reduce costs of operations and reduce carbon foot-prints," Shyam Sundar S Pani, President of GIREM said. Dabbawalas, who deliver tiffin services to over two lakh customers in Mumbai, have been a case study for several management schools in the country.
Union Urban Development minister Kamal Nath will also deliver a key-note speech on views and perspectives on India's urban development and future at GIREM. "He will also give away the prestigious GIREM Leadership Awards to the worthy winners," Pani said.
The conference, which will have 400 delegates as well as international speakers and include top notch stakeholders from 24 countries, will culminate on October 1, Pani said.
"Trends, issues and concerns in the realty sector, insights into the future of real estate, and other pressing issues of urban India will hold center stage during the conference," he said.
According to the organisers, over the last four years, the event has been providing platform to various entities including developers, architects, consultants, policy-makers, investors to interact through its various sessions.