By: Ravi Sinha
Track2Realty Exclusive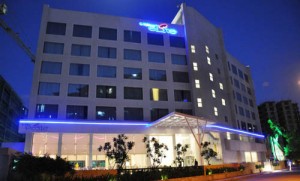 Rakesh Dhamija has spent five years with a multinational company in Spain. During his morning-to-evening business travels he always opted for hotel lounges in various parts of Europe. However, on his return to India, he was surprised to find that such hotel lounges are unheard of in this part of the world. On his recent business tour to Mumbai, he was wondering as to where to relax and invite the clients for business meetings.
This young business traveller is not alone to face such a dilemma. Thousands of business travellers across the country are confronted with such catch 22 situation on routine basis-whether to check-in a hotel and pay unnecessary for the entire day's room rent or themselves travel to the clients' office one after the other. Problem is that such inter-city travelling not only kills the quality and productive time, but is also not feasible to have more than a couple of meeting in the day. The situation is even worse in a city like Mumbai where travel time is a matter of concern for such morning-to-evening travellers.
This is where Kohinoor Group has assessed the demand & supply mismatch and taken the first movers advantage with the launch of Kohinoor Elite, a 3 Star budget hotel offering 5 Star services. In an exclusive interview with Track2Realty, Mukund kamat, Vice President, Kohinoor Hotels (See the interview section) says this innovation in hospitality has been initiated keeping in mind that every business traveller has to be given a feeling of being elite.
"At the same time, staying at Kohinoor Elite is e-lite (especially light) on the pocket for customers. As a preferred choice for the discerning new age business traveller, Kohinoor Elite offers an excellent range of guest facilities and services tailored to the needs of business travellers valuing their precious time. We believe in pampering our customers. We assure our guests that they will unfailingly Experience Exuberance Everytime they patronize Kohinoor Elite," says Kamat.
Kohinoor Elite offers a host of services from handling baggage and laundry and providing wi-fi connectivity. All this is being offered in one single complete package with all meals included in the room rate – a unique facility one will get only at Kohinoor Elite.
Kamat believes morning-to-evening travellers would love to come to Elite Lounge. "The Elite Lounge is a unique feature. If you are one of those who lands in the morning and flies back in the evening after a few meetings through the day, we have just the facility you want – The Elite Lounge. Check into our lounge, have a shower and freshen up, and off you can go for your meetings leaving your baggage in our safe hands. Come back in the evening, relax, have a bite and check out of the lounge to leave for the airport. All this for a steal," he adds.
Well, some of the features at Kohinoor Elite is definitely unique and paves the way for the innovation in hospitality sector. 1 Bill Concept and Lounge is what any business traveller looks for in any given city. The demand-supply mismatch, particularly in a city like Mumbai, suggests that Kohinoor Elite will definitely catch the fancy of any business traveller. The big question, however, is—will the hospitality sector in general think out-of-the box and cater to such mismatch in terms of pricing and product? At least, Kohinoor Hotels has taken the first movers advantage.