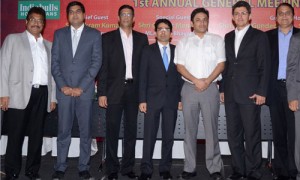 The infrastructure development and building approvals in Mira-Virar area came into sharp focus at the 1st AGM of the MCHI's MVC Unit.
Vikram Kumar, Municipal Commissioner of Mira Bhayander Municipal Corporation, who was the chief guest at MCHI Mira-Virar City event held recently, heard the various grievances from the developer community and said he himself is personally keen to ensure speedy development of the area in a planned manner.
He promised to look into all genuine suggestions from developers and work on a time-bound clearance of building proposals.
At the AGM, the MCHI Code of Conduct for Developers was unanimously approved paving the way for educating the developers and customers on the self regulatory aspects to ensure transparency in transactions.
MCHI President, Paras Gundecha explained that the Code of Conduct was designed to enhance credibility of developers among customers while ensuring that all legal compliances are met.
He pointed out the code of conduct aims to promote the highest standards of quality and service in the industry, apart from ensuring transparency and fair dealing among the Developers, Promoters and Customers.
MCHI Secretary, Boman Irani, who is also the President of the Mira-Virar unit called for efforts for an all round development of the area. He said that issues like infrastructure are needed to be addressed while developing the City and also discussed the issues related to Occupation certificate, Common TDR for Mira Bhayander and the Estate Investment. He said and expressed the happiness that Municipal Commissioner Mr Vikram Kumar is always quick to respond to any positive suggestion in this regard.
Shailesh Sanghvi Secretary MCHI Mira Virar City narrated the various activities of the unit and announced the Suburban Property Exhibition 2012. He laid emphasis on need for an united efforts of developers and authority for future development.