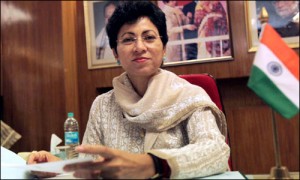 The government has formed a committee to evolve a workable strategy for reducing the time taken in approval of real estate projects which could ultimately reduce the cost of houses by 25 to 40 per cent, Minister of Housing and Urban Poverty Alleviation Kumari Selja said on Friday, May 11.
The Committee under chairmanship of Dhanendra Kumar, former Chairman of the Competition Commission of India, will submit its report in four months, she said while addressing a conference on affordable housing organised by The Associated Chambers of Commerce and Industry of India (ASSOCHAM).
'ÄúIt is estimated that the cost to ultimate consumer could be 25 to 40 per cent lesser if the time of granting approval is reduced to six to eight weeks, which is quite achievable in the present day and age,'ÄĚ said Selja.
Leading real estate developers say about 70 approvals are required for a typical housing project which take nearly three years. The lack of coordination among multiple government agencies and delays result in higher costs which are passed on to the consumer.
The minister said the government has formulated a draft Real Estate Regulation and Development Bill for orderly growth of the sector. Besides, the recently-established Credit Risk Guarantee Fund Trust is coming up with a scheme to provide loans up to Rs five lakh for low income housing.
'ÄúThe initial corpus of this fund will be Rs 1,000 crore and we hope it will catalyse about Rs 20,000 crore of affordable housing credit,'ÄĚ said Selja.
The Union Budget for 2012-13 has allowed external commercial borrowings which will lower interest cost for developers and ensure better capital availability for low-cost housing, she said.
Arun Kumar Misra, Secretary at the Ministry of Housing and Urban Poverty Alleviation, said private sector can a crucial role to play in expanding the concept of affordable housing. There are, however, demand-side and supply-side constraints at present due to lack of bank credit.
Naveen Raheja, Chairman of ASSOCHAM real estate committee, said the shortage of dwellings in urban India is estimated to be 25.5 million units. The poor form 90 per cent of this shortage.
'ÄúFor affordable housing, partnerships may be forged among the central government, state governments, urban local bodies, people'Äôs cooperatives and the private sector,'ÄĚ he said adding the definition of affordable housing should be clearly defined.
Affordable housing is generally defined as a dwelling unit of 300 square feet for economically weaker sections with annual income level of Rs 1.5 lakh and 300 to 600 square feet for lower income group with annual income of Rs 1.5 lakh to Rs 3 lakh.
ASSOCHAM Secretary General D.S. Rawat said housing for all remains a key priority in India'Äôs development agenda. 'ÄúLow-cost housing offers a world of opportunities to the real estate development business that can bring in much-needed resilience to the sector.'ÄĚ
Others present were Susheel Kumar, Joint Secretary at the Ministry of Housing and Urban Poverty Alleviation, R.V. Verma, Chairman and Managing Director of National Housing Bank, Ashok Khurana, engineer member at the Delhi Development Authority, and Sunil Dahiya, Co-chairman of the ASSOCHAM real estate committee.
They said urban infrastructure is coming under tremendous pressure with rapid economic and industrial development across the country. While some of these are gradually being mitigated, concerted efforts are required by multiple institutions to facilitate mass development in the sector.
According to 2011 census, the country had a population of 1.21 billion of which 377 million or 31.16 per cent lived in urban areas.