Track2Realty Exclusive
Bottom Line: The USP of Faridabad is its growing social infrastructure that is in sync with physical infrastructure.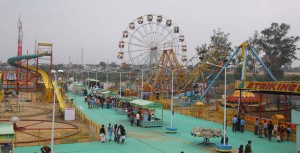 When Aditi Mishra shifted to Faridabad in 2009, she did not like the place in absence of entertainment and leisure options in the neighbourhood. After having spent good number of years in Gurgaon she was exposed to the lifestyle choices in the Millenium City where social infrastructure is among the best in North India. Faridabad, in contrast, was a sleeping city with only USP of affordable habitation.
However, within a span of seven years she hardly finds any difference and, as a matter of fact, she has started liking Faridabad more than any other part of Delhi-NCR.
"I am living closer to Neharpar area and initially there was nothing in the name of entertainment options. But now I have everything closer to home, be it malls, multiplexes, sports facilities, educational institutes or hospitals. What I like the most about Faridabad is the fact that physical infrastructure is as good as the social infrastructure which makes Faridabad the best city in NCR," says Aditi.
This fashion designer is not alone in appreciating what till recently was only a sleepy residential zone called Faridabad. As a matter of fact, there are very few property markets across India where the growth of the physical infrastructure has been in sync with the social infrastructure. More importantly, the trend has traditionally been noticed only in the matured property markets which has seen the cyclic highs and lows before getting stability and habitation.
However, Faridabad which has till only recently not been on the top of the mind recall of the developers and the policy makers have now woken up to fast track developments where the social infrastructure is matching the physical infrastructure and together that promises to be taking the Faridabad property on a high growth curve.
Facts speak for themselves. While the District and Town Country Planning has rated Faridabad as high growth potential area with major thrust on infrastructure development, it is not just the real estate developers who have grabbed the opportunity to get the best out of the destination that has to offer. Rather, some of the best educational institutions, medical chains and retail outlets have already found a promising haven in the region.
Today, a number of malls like Crown Plaza Mall, Good Store and Lifestyle being among the major ones have already come up in the area. Added to this, the area now is moving towards holistic development as educational institutions such Echelon Institute of Technology, Apeejay School Faridabad, Palm Beach School for Autism, Modern Delhi Public School and the Institute of Aviation Management have come up over there. Healthcare facilities include Apex Diagnostics and Polyclinic, Kilkari Paediatrics Clinic, Diagno Aide Pathology Lab and Kalra Child Care Centre.
Some of the first movers in the Faridabad market like Omaxe and BPTP have already been benefitted in this city where the price appreciation, though relatively low key in media space, has been phenomenal.
Mohit Goel, CEO, Omaxe agrees to it when he says Faridabad has been witnessing a steady rise in realty prices. Homebuyers have found a liking to the city owing to its affordability vis-Ă -vis its NCR peers and day-by-day improving connectivity- be it to Delhi or to adjoining cities like Ghaziabad, Noida, Gurgaon, Palwal etc. The two regions that are on the wish list of both investors and buyers are Surajkund Road and Neharpar.
"The development of Neharpar as an affordable destination will help accommodate millions of population in the coming times and provide them access to cheap housing. The Master Plan has laid a lot of emphasis on the infrastructure development of Neharpar. Besides, projects on Surajkund Road, due to its advantageous location (hardly 5 min drive to Delhi), continues to draw premium," says Goel.
The proposed Delhi Mumbai Industrial Corridor (DMIC) also promises to change the Faridabad landscape opening floodgates of opportunity. The DMIC stretch that touches Faridabad-Palwal is poised to open floodgates of economic opportunities with world class infrastructure at the doorsteps of Faridabad.
Well, there is no denying that Faridabad has scaled up fast on the given parameters of property appreciation and social infrastructure. Moving forward, some big ticket infrastructure projects are in the pieline and to supplement that there is growing social infrastructure. Collectively that makes Faridabad one of the best bet for investment.