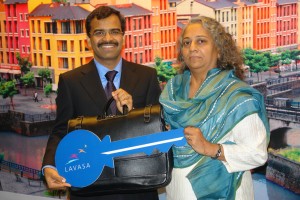 Track2Realty Exclusive: At a time when the critics had it that successful women in realty sector are mostly the inheritors of realtors' families, or otherwise highly skilled work force like the architects, some home makers have proved it wrong yet again. These are the home makers who have been equally successful as home agents as well.
With her success in real estate brokerage Asha Chaudhary has silenced those who had told her not to diversify in this 'risky' business as she already owned an accounting firm.
Step-by-step journey, however, took Asha to a point where she now deals in high-end apartments on Golf Course Road in Gurgaon and maintains a limited, high-profile clientele. The fast-changing dynamics of the business and number crunching inspired her to take up the realty business. Asha, 39, is the mother of two kids. Her husband, who is an engineer like her, supports her in these endeavours.
She initially faced many challenges, like not being paid by other brokerage firms, but has now carved a niche for herself in the industry. She believes that a woman is more sincere, organized and honest. "These qualities make clients comfortable working with a woman broker," she says.
While five years ago, Asha really felt out of place in the business many times as if she was the only odd woman in this business. Today there are many others working in the realty business.
Her thoughts are reflected by Biju Menon who is the Director at SRE India Realty. The company currently boasts of having three women consultants. He said, "Women engage in regular follow-ups with clients. Thus, they retain more clients than men. They personalize the process so effectively that clients are compelled to come back."
But making inroads in this male-dominated industry has not been easy for these women. Apart from having to face cut-throat competition, they also have to turn a deaf ear to comments which find their origin in the hurt male ago.
Namita Sharma, Marketing Head with a real estate company has faced many such situations but did not let it hamper her career graph.
There have been instances when men tried to forge a so-called friendship with her – the young single girl who is showing them property in deserted locations around the city. By God's grace, such incidents never turned ugly because of the cooperation and understanding shown by her employer.
The MD of Vibhuti Real Estate, Sabina Suri, feels that the main obstacle that women in property brokerage face is not having the liberty to work late in the evening. Also, coming across clients who are not well educated or those who think they know more than a broker can be irksome. Being a woman makes the challenge worse. In spite of all the hurdles there is no stopping women who exhibit professionalism and efficiency. Being educated gives them an edge over the others.
The industry is evolving at a fast pace as the number of well-read people involved is rising exponentially. This phenomenon has developed more credibility and hence there has been an influx of women. The rising demand for educated consultants is evident from the fact that girls with an MBA in Marketing and academic background of an alumnus of Welhams School and Lady Sri Ram college are today leading names in the network.
There is a consensus on the idea that the mindsets of the clients and brokers need to undergo a radical change. The gender barrier needs to be broken and it is high time that performance was valued over anything else.