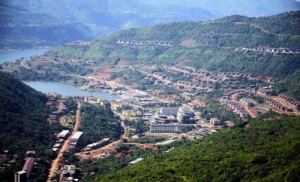 Track2Realty: L&T Infra Finance has signed an agreement with Lavasa Corporation for purchase of 20.23 hectares of land, with a development potential of 5 lakh sq.ft at Mugaon town in Lavasa City, near Pune.
L&T Infra Finance, a infrastructure finance company, is a subsidiary of L&T Finance Holdings Limited. Mugaon is the second town being developed in Lavasa City after Dasve. L&T Infra Finance proposes to utilize this land for corporate purposes and potentially for back-office requirements of L&T Financial services.
Speaking on the development, Rajgopal Nogja, Chief Operating Officer, HCC Group, stated, 'ÄúWe welcome L&T Infra Finance'Äôs decision to be part of Lavasa City'Äôs vision of becoming the preferred destination for both business and leisure. The natural beauty of the hill city and an award winning master plan that stresses on quality living with homes, works spaces, education facilities, leisure and entertainment avenues at walkable distances from each other and the location advantage, give Lavasa City an edge. This move will also create employment opportunities and give impetus to the region's development."
Commenting on the development, G Krishnamurthy, Chief Executive, L&T Infra Finance said, 'ÄúWe are pleased to have begun our association with Lavasa City. We believe that Lavasa City represents the way new cities in India will come up in the future and our investment is an opportunity to participate in this growth.'ÄĚ
The Lavasa development comprises of five self-sustaining towns with a capacity for a permanent resident population of approximately 240,000 citizens and an estimated 2 million tourists per annum. Businesses associated with Lavasa City include State Bank of India, Shail Group, Accor Group, Pullman,  Apollo Hospitals, Ecole Hoteliere de Lausanne- Switzerland, UKIBC, Educomp and a plethora of retail brands such as Bata, Smokin Joe's, Café Coffee Day, etc. A tie-up is also in place for Sir Steve Redgrave for a rowing academy.