By: Lulu Raghavan, Managing Director, Landor Associates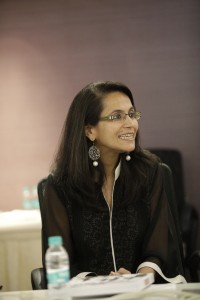 Track2Realty Exclusive: Once a promise has been defined, all the customer touch points need to be mapped. Everything from the website to marketing collateral to what the CEO says about the company to how the telephone is answered at corporate headquarters should reflect the promise of the corporate brand.
For example, if you have chosen Quality as your defining promise then you can not have a shoddy, poorly designed website that takes a long time to load, a brochure that has compromised on the paper used to print it or a sales team member who wears a shirt that has not been ironed.
All these touch points either reinforce what the brand stands for in the eyes of the consumer or not. Managing the customer experience of the brand is most critical. This process is true for any brand in any industry. It is all the more critical in real estate, because as stated earlier, this is once in a lifetime purchase for consumers and every touch point creates an impression about the brand they are buying into and gives them total assurance for the purchase.
Then comes the product/property branding. You have to find a source of relevant differentiation for the product brand, based on a rigorous analysis of all functional and emotional attributes that the product can credibly deliver.
What you arrive at has to be both relevant to consumers as well as different from what your competitors are offering. Brands built on parity offerings will not stand the test of time. This is a mistake that many real estate brands make by not creating product level differentiation.
Once the product brand's uniqueness has been agreed, you then have to determine the appropriate degree of linkage with the corporate brand – a strong endorsement, a light endorsement or no visible endorsement at all? There are strategic reasons for choosing each option and it varies by company. This is what is typically referred to as brand architecture.
A real estate brand may choose to build just one brand – its corporate brand – and use that to strongly endorse all products. Or it may choose to develop separate sub-brands for each product with varying degrees of linkage with the corporate brand. Or the third option is to develop separate product brands with no visible linkage to the corporate brand.
All three are equally viable options from a commercial perspective. Here again, market, consumer, competitive and company factors have to be considered in determining the right solution.
The customer experience of buying the product brand must be defined very rigorously as well. This is the only way to ensure that footfalls created through communications will result in genuine purchase interest and then, potentially, sales.
Every aspect of the potential buyer's journey should be mapped. The buyer's functional and emotional needs should be kept in mind and the brand's response at each touch point carefully thought through in a way that is true to its relevant differentiation that has been defined.
The biggest watch out in real estate branding is the connect between promise and delivery. Under promising and over delivering is a much smarter strategy than vice versa which as we know has become the norm. The time is ripe and the real estate brand that seizes this window of opportunity to strengthen its brand is sure to see the impact on its business.
It is a relatively new industry, going through its own learning curve. But in my opinion, the real estate is definitely in search of first-movers on holistic branding. They will be the company who will reap the benefits, and also define the brand standards of the sector.
Having said this, I am not sure how many of them would be willing to invest in a long road map of branding, at a time when selling the project seems to be the only motto.