Launches two in a row – Hyde Park Estate, DLF New Chandigarh & Park Place – Jalandhar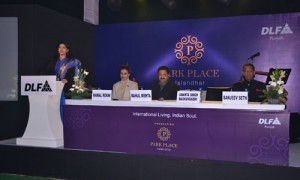 DLF now extends its footprints further by launching a plotted development, Hyde Park Estate at DLF New Chandigarh and Park Place, a luxury apartment complex in Jalandhar.
New Chandigarh, promises, for the first time in the region after Chandigarh, to provide world class infrastructure under a Master Plan — wide roads, open spaces, green belts, educational hubs, health and wellness facilities, modern water supply, power supply and sewage treatment plants, etc..
Under its planned strategy, DLF has commenced construction of infrastructural work at Hyde Park Estate.
Another new launch in Punjab is Park Place, Jalandhar; a first of its kind project in the city.
Park Place on the G.T. Road towards Phagwara will come up on 5.4 lacs sq/ft area in a high street area. The project will have five towers going upto 12 floors. It will comprise of 3 & 4 bedroom apartments, duplex and pent houses. The complex is proposed to have 35% green area with 235 dwelling units.
Designed by Hafeez Contractor, the facilities at Park Place match the international living standards and, will surely give the people of Jalandhar their first real taste of exquisite lifestyle. This is the first residential project any where in North Punjab that will offer an attached Club and Sporting facility. Considering that sports are considered a very important part of our daily curriculum, these facilities will be of very useful for people residing in these apartments. This will also provide an opportunity for the children to take up sports seriously, and make a mark in there chosen fields.  To name a few amenities that are available are swimming pool, squash court, badminton and tennis courts, table tennis room, gym, spa, restaurant and much more. The residences will have the benefit of 24 hours water supply and power back up.
Talking about the 2 launches, Mohit Gujral, Vice Chairman & Managing Director, DLF India Limited said, "Punjab is an extremely important market for us and, we value its resident's aspirations of "higher living".  Both the projects in Punjab are in continuation to our constant endeavour to offer the best of homes to the people. DLF offers Integrated Townships, Luxury Homes, Waterfront Apartments, Holiday Homes, Retail Spaces across several cities in India. With these dream houses come the rich green, vast open spaces and the indulging facilities that forms DLF lifestyle. We bring global panache to our projects through well designed interiors under the guidance of renowned architects and designers."
Adding further, Ananta Singh Raghuvanshi, Director, Sales & Marketing, DLF India Ltd said, "The designs and features of these projects have been conceived basis a study of many International residential complexes, and a survey conducted with NRI's from Punjab & Chandigarh. Therefore, it is a direct outcome of the demand from the upwardly mobile North Indians and NRI Punjabis. She also added "DLF is already getting a very good response from the customers. Even before, we had made any official announcement about the launches, there was a flood of people visiting the sites with enquiries and booking requests."