News Point: Approximately 2 mn. sq. ft. of warehousing space absorbed in 2015; Â demand for space jumps from 2% in 2012 to 22% during 2015.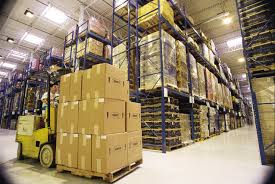 #E-commerce has emerged as one of the main drivers for #warehouse realty demand across the country after Third Party #Logistics (3PL) operators (30% share during 2015). According to a CBRE report, the e-commerce sector is currently witnessing a lot of active interest from investors.
The CBRE release also says that approximately 2 million sq. ft. of warehousing space was taken up by e-commerce firms in 2015. This is a significant jump as the share of the sector rose from a meager 2% of the total warehousing demand in 2012, to around 22% during 2015.
On the same lines, office space demand from e-commerce firms witnessed a 170% year-on-year growth—from 0.7 million sq. ft. in 2014 to 2 million sq. ft. in 2015.
Commenting on the report, Anshuman Magazine, Chairman and Managing Director of CBRE, South Asia said, "Investors have begun to show more interest as the growth story of the sector continues. The sector saw significant activity during 2015, mainly driven by existing e-commerce companies looking to ramp up operations, while new players entered the market. Along with e-tailing groups (companies or organizations), substantial funding also flowed into the e-commerce logistics segment, which registered investments of close to US$ 262 million during 2015."
Key themes for 2016
E-commerce players preferring to lease on their own instead of outsourcing
Consolidation on the horizon
Increasing preference for Built-to-Suit (BTS) options
Rising demand for large floor plates with better specifications
Increase in compliance, health and safety conditions led to shift in demand from Grade B to Grade A assets 
Between 2010 and 2012, the average demand for warehousing space was just about 4.5 million sq. ft. With the emergence of the e-commerce segment in the country, modern warehousing space leasing increased to approximately 7.7 million sq. ft. during the 2013–15 period.
Along with leading urban centers, smaller Indian cities such as Jaipur, Ahmedabad, Nagpur, and Mangalore, among others, saw e-tailing firms establishing their fulfillment centers (FCs) here. Tier II locations such as Ludhiana, Surat, Ahmedabad, and Jaipur are currently attracting the next phase of leasing activity.
On an annual comparison, warehousing space leasing surged by more than 200% in these smaller locations. This was largely driven by the need to improve operational efficiencies and increase the customer base.
"As competition becomes fiercer and buyer expectations increase, e-commerce majors will have to consider multiple factors such as the quantum of investments in asset improvement, expansion possibilities, rental and other associated commercial terms to determine their optimal real estate strategy. Developers on the other hand, will need to monitor the market carefully to ensure that the right kind of supply at the right price is available for the occupiers." said Jasmine Singh, Executive Director (Head – Industrial & Logistics Services), CBRE South Asia.
Drawing comparisons with Part I of the series, the report states that while in 2014 e-commerce players were just finding their feet, 2015 has seen them become more demanding.
With an increased awareness about the standards and associated cost of construction of Grade A Pre-Engineered Buildings (PEBs), and stricter adherence to Environment, Health and Safety (EHS) standards, the demand for modern warehousing space has increased.
This trend is likely to continue, and will create an increasing pressure on developers to build better quality assets, going forward.