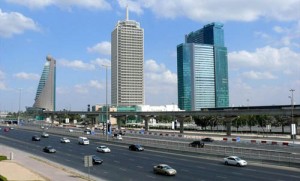 The Indian Property Show opened at Dubai World Trade Center, Hall No.4. The 8th edition of the show was officially inaugurated by Chief Guest, H.E Shri K. Sankaranarayanan, Governor of Maharashtra, India along with Sunil Jaiswal, CEO Sumansa Exhibitions, organisers of Indian Property Show in the presence of key Indian real estate developers, senior officials from Sumansa Exhibitions, media and huge crowd of buyers. The three-day event, organised by Sumansa Exhibitions, brings together over 50 real estate developers from all over India and also pools lateral sector and auxiliary services such as home finance providers, lawyers, and Vastu consultants to provide a unified real estate networking platform for investment in residential and commercial property in India.
Speaking at the occasion, H.E Shri K. Sankaranarayanan, Governor of Maharashtra, India, said, "The real estate market in India in general and Maharashtra in particular has seen tremendous growth despite the recession that has affected most nations of the world. My countrymen have benefited greatly from the booming economy and its impact both on commercial as well as residential property market. I invite all Indians from United Arab Emirates and other GCC nations to visit the Indian Property Show and see for themselves what the developers from India have on offer and to experience first hand, the strides made by this industry in the past year. I congratulate Sumansa Exhibitions on bringing the Indian Property Show to UAE once again, and extend my best wishes to them for the success of the event."
Sunil Jaiswal, CEO, Sumansa Exhibitions-Organisers of Indian Property Show said, "Our endeavour and core strength has been to create a convenient interface between millions of NRI's in UAE and Developers in India. We aim at helping the NRI's here to make the property purchase process seamless there by enabling them to nurture the earnest desire to own a property back home. In past couple of years the real estate sector in India has witnessed lot of changes and hence we want to provide a platform that addresses two factors that inhibit an NRI from taking a decision: accurate information and direct access to real estate developers from India."
Indian Property Show is set to showcase property worth $2322m to approx. 17000 visitors, and expect to generate $58m worth of business, making it the largest and most diverse event in its class. This year's showcases range from affordable homes, ready apartments, luxury villas, holiday homes and eco friendly projects displayed by Unitech Ltd, Vatika Group, Godrej Properties, Hiranandani, Ansal Housing, India Bulls, Jaypee Greens, Lokhandwala, Ireo, Arihant Superstructure etc.
Indian Property Show will also feature a series of free seminars; Pt Gopal Sharma will impart knowledge on Role of Vaastu in choosing properties, its implications etc, where as Industry experts will talk about real estate hotspots in Tier 2 & Tier 3 locations such as Gurgaon, Noida, Pune, Navi Mumbai, Chennai etc. The seminars will also further talk about the reasons to invest in these locations. International property guru & CEO Sumansa Exhibitions, Mr. Sunil Jaiswal will be taking charge of investment strategy, important aspects of investing etc.
Adding further, Sunil Jaiswal, CEO Sumansa Exhibitions-Organisers of Indian Property Show said, "After testifying success in UAE market for so long, we have now taken the Indian Property Show to the huge Indian diaspora in other countries such as Singapore, Qatar, United Kingdom, & South Africa. Our show in Durban this March was a huge success and after Dubai we are looking forward to emulate similar success in London market in June end, Singapore in August, Doha in October and back in Dubai in December." Amongst the high caliber exhibitors is the 3 C Company who are participating to showcase the eco friendly constructions.
"As an environmentally responsible corporate, our vision is to provide opportunities for a healthy living & create a greener planet. Each project of ours is developed from the cornerstone of fostering economical but ecologically sustainable growth. Today we are proud to be heading the 'Green Revolution' by having already delivered, more than 13 million square feet of niche developments. We are confident that buyers are looking at such options and we are here to showcase the same to them." said Brijesh Banote, Director- Sales & Marketing, The 3C Company.
Ajay Sachdewa, HDFC, Dubai commented, "HDFC is how 3.8 million families spell the word Home Ome. Equipped with state-of-the-art information systems and well trained staff, HDFC has been able to respond swiftly to ever-changing customer needs, and has built up capabilities to approve loans within 48 hours. Aspects such as advanced capabilities in the area of processing loan applications, a committed, specialist team of trained and talented staff, technical guidance in respect of documentation, liaison with property developers etc., reflect HDFC's efforts to serve its growing clientele. HDFC is looking forward for these 3 days of exhibition." With surging interest by NRI's in property purchasing, favorable Government policies, and scorching competition amongst developers to tap the buyer, it is indisputable that Indian Property Show has become a magnifying glass for observing trends of Indian real estate sector and a perfect guide for making property purchase decisions.