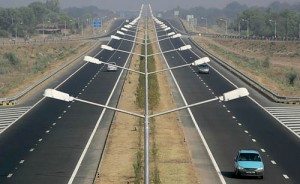 Track2Realty: Government is coming out with new PPP models to fast track infrastructure projects, said Jitin Prasada, Union Minister of State for Road Transport and Highways, while inaugurating the Conference on Infrastructure Project Management, organised by Confederation of Indian Industry in New Delhi on Thursday, Sep 20.
"Our main emphasis is to build solid road network and good quality highways. In India out of a total of 4.1 million kms of Indian roads, just 2% is National Highway which bears 40% of total traffic in India. Over 4000 kms of roads would be built under the Operate Maintain Transport (OMT) & Engineering, Procurement and Construction (EPC) model", he added. He also shared government's plan of increasing the budget for Infrastructure Development in the 12th five year plan from 500 bn to 1 trillion.
Dr T C A Anant, Secretary and Chief Statistician of India, Ministry of Statistics and Programme Implementation, GoI, shared that "Government has directed that most of the infrastructure projects should be through PPP mode and private companies would play an important role in the overall Infrastructure Development of the country". He further added that there are considerable important steps taken by government to mitigate the risk in project being taken up and shared the example of DMRC as the best example of project management in India.
Anshuman Magazine, Conference Chairman & CMD, CBRE South Asia felt that proper Infrastructure Project Management is one of the important challenges the industry faces today, in view of the massive infrastructure development which will take place in India for the next 20 years at least. He highlighted some of the recent successful developments in Infrastructure in last few years like Delhi Metro, Delhi Airport, etc and the need to increase the share of such quality project across the country.
Ajay Shriram, Vice President, CII and Chairman & Managing Director, DCM Shriram Consolidated Ltd. stated that "Urban Infrastructure projects provide great scope of growth in India. At present, infrastructure projects worth over 17,000 Crore are underway across India and as these are completed, it would soon lead to better standards of living and higher economic growth. "Government's efforts to enhance PPP have yielded results. Industry is giving more and more importance to Project Management to face various challenges and achieve highest possible efficiency standards", he added.
Other eminent speakers at the conference were Amit Bose, Vice President, Pepsi Co, Amit Gover, National Director, DLF, Syed Moinuddin, Senior Director – Corporate Real Estate-APAC, Aon Hewitt, R Shankar Narayan, Head – Corporate & Strategic Planning, L&T Ltd and Mr Ashok Rastogi, Senior General Manager, BPTP India. These speakers were from all diverse backgrounds and industries ranging from contractors to clients to developers; thereby presenting a comprehensive gamut of opinions and ideas at the conference.