Track2Realty Exclusive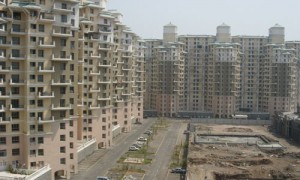 When a broker recently suggested Himanshu Kapadia that he should better invest in Ulwe, Dronagiri or Nerul of Navi Mumbai this engineer thought the greedy broker is selling the properties out of which he could make more brokerage. There was nothing common between these three locations and even in terms of price point of the residential properties the three given markets had a different profile.
While the capital values of the residential properties in Nerul is around Rs. 9000-14,500 per sq feet, Ulwe property costs somewhere around Rs. 4600-7000 and Dronagiri property rates are between Rs. 3600-5000 per sq feet.
The broker was nevertheless firm in his assertion that these three locations are jewels of Navi Mumbai and a real investment magnet. And hence, Himanshu decided to do some in-depth research of the market. He found that the broker had his pulse on the property market in this part of the world and these three locations of Navi Mumbai might be trading at different price points, they have something in common that could give confidence to any homebuyer in any part of the world. That common link is constant appreciation amidst otherwise slowdown spell.
As a matter of fact, when most of the property markets in and around the Mumbai Metropolitan Region (MMR) and Navi Mumbai have either softened up in appreciation or been witness to the price correction, the property markets of Nerul, Dronagiri and Ulwe have shown upward bias, even though only marginally, on quarter-to-quarter basis in the last eight quarters. This is a fantastic performance at a time when even holding the prices at the current level itself has been challenging in many other markets.
Most of the homebuyers in these markets seem to be very bullish on these zones, even though the appreciation has not been very high in this region. They believe that the moderate appreciation also reflects the reality that this market is not attracting the greedy investors; it is an end user driven market. The potential of the region is so high that none of the homebuyers in this market are complaining or repenting their purchase decision. The first movers are rather endorsing this market to be very realistic, reasonable and rational.
Analysts anticipate that the proposed Mumbai Trans Harbour Link project will push these real estate markets since locality is situated towards the end of the upcoming Mumbai Trans Harbour Link that connects Sewri in Mumbai to Nhava Sheva in Navi Mumbai. This link, when completed, will not only cut down the travel time between Mumbai and Navi Mumbai, but will also boost real estate prices here.
Subhankar Mitra, Head – Strategic Consulting (West) JLL India seems to agree with this when he says that the Sewree Navasheva Sea Link will make it feasible to stay at Navi Mumbai and travel to South Mumbai in a shorter time frame. "It is estimated that via the Sewree Navasheva sea link, the CBD  at Nariman Point, Fort and SBD of Lower Parel, etc. could be reached in a shorter time than from the western on eastern suburbs. Once the infrastructure and feeder connections are properly developed, locations like Uran, Ulwe and Dronagiri would see a very perceptible increase in real estate prices," says Mitra.
Most of the developers active in the region maintain that many of these locations of Navi Mumbai are yet to see the first wave of sizeable appreciation.  Rajesh Prajapati, MD of Prajapati Developers says infrastructure development is the key to any urban development and the various projects initiated by CIDCO (City and Industrial Development Corporation) will go a long way and play a major role in the rapid progress of Navi Mumbai. He is quite bullish over Dronagiri where he believes that apart from the airport, the region will soon witness the execution of Mumbai Trans-Harbour Link that will connect Uran with Sewree.
"We highly recommend house hunters to have a look at Dronagiri as a housing option. Uran also has Navi Mumbai's only beach that can be developed as a great picnic spot. In the light of these recent developments, Dronagiri stands out as one of the most promising places to invest in due to its attractive pricing. At present the property prices are at a comfortable level, which is one of the lowest in MMR region. The demand for affordable housing has made Dronagiri the most promising residential destination for people to invest," says Prajapati.
With many ongoing projects moving towards their completion, property prices are bound to shoot up in coming three to four years and because of the low price entry point of Dronagiri and Ulwe analysts do not rule out even hundred pre cent appreciation. Nerul also promises to emerge as one of the most posh and costliest luxury destinations of Navi Mumbai.
Apart from the upcoming infrastructure projects in the region, the shifting of offices in these locations also indicate that the next wave of growth is very much round the corner. It is not just the residential spaces that make a broker call places like Nerul, Dronagiri and Ulwe the three jewels of Navi Mumbai; the economic fundamentals of the region is lending credence to this optimism.