Track2Realty Exclusive
Bottom Line: Homebuyersā€™ education is extremely important to make sure they are conscious of their credit reliability & credibility.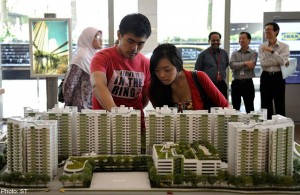 How would you feel like a prospective homebuyer if you apply for a Rs. 30 lakh loan while buying an apartment of Rs. 1 crore and still being denied? This is not a hypothetical question but a reality in property market where in many cases the homebuyers are denied even 20 to 30 per cent loan. Reason: poor Credit Score of the applicant and his past track reord of poor payment and default on payment.
Take the case of Gurvinder Sapra (Name changed on request), who was denied Rs. 30 lakh as loan even though he had cash money of Rs. 70 lakh to make the down payment. With default on two credit cards and many other payments in the past, he never bothered to check on his credit worthiness till the time he was hit hard during the home purchase this time around. He had to lose on buying a property of his choice for just 30 per cent of the amount while others in his circle could borrow up to 80 per cent of the cost of the apartment.
ā€œAs a matter of fact, I never bothered about Credit Score or any other such compliances, even though I had heard of Credit Score and CIBIL. But the moment I applied for this small amount of home loan my past mistakes surfaced. I realised how important it is to maintain a healthy Credit Score and clean trck record of payments to be eligible for loans in times of need,ā€ says Gurvinder.
Calculating Credit Score
Credit worthiness is gauged by an individualā€™s Credit Score which is a numeric data that is arrived at based on oneā€™s credit history. Credit history is based on:
(1) Payment history - Determines whether one can be trusted for repayments. Takes into account regular and timely payments
(2)Amount owned ā€" Determines oneā€™s financial state. If you are perpetual in debt with high amounts then your liquidity gets impacted and this affects your repayment capability
(3)Duration of credit history ā€" Length of oneā€™s credit history or track record. Longer the duration, accurate the calculation
(4)Fresh Credits ā€" New account openings, fresh credit card aplications, etc. These indicate at cash flow problems and liquidity stress which definitely decreases your repayment capability
(5)Credit types ā€" It is determined by secured loans (home loans) and unsecured loans (credit card, personal loan, etc.). A fine balance between the two ensures your stability to repay a loan. Higher on the unsecured side, reduces your credit scoreĀ 
What is CIBIL
Credit Information Bureau (India) Limited or popularly known as CIBIL is a Credit Information Company (CIC) founded in August 2000. Post inception, this organization is playing a critical role in Indiaā€™s financial system, whether it is to help loan providers manage their business or help consumers secure credit faster and at better terms. The use of CIBILā€™s products have led to a massive change in the way the credit life cycle is managed by both loan providers and consumers.
CIBIL collects and maintains records of an individualā€˜s payments pertaining to loans and credit cards. These records are submitted to CIBIL by banks and other lenders, on a monthly basis. This information is then used to create Credit Information Reports (CIR) and Credit Scores which are provided to lenders in order to help evaluate and approve loan applications.
Since, the Credit Score and CIR not only helps loan providers identify consumers who are likely to be able to pay back their loans, but also helps them to do this more quickly and economically. This translates into faster loan approvals. Until recently, there was little visibility and transparency with regards to the loan approval process and the elements that loan providers used to evaluate the loan application. Since, CIBIL has made individualā€™s Credit Score and CIR available, one can easily evaluate how valuable a customer is to loan providers.
What is credit worthiness?
Credit Worthiness is defined by individualā€™s Credit Score which is calculated based on her/his credit history. Credit history is basically how much debt an individual owes or had in the past; how was the payment schedule – regular, timely, late, etc; how often does one borrow; is person a loan guarantor in any transaction; and so on so forth. All these indicate at borrowerā€™s current financial health and repayment capability.
Assessing a homebuyerā€™s capability to make timely payments and ability to finance the property value is one of the first steps towards home selling. In case of home loans, it is easy as bank or financing institutions do the due diligence and reduce the risk.
Pratik K. Mehta, MD, Unishire says that credit worthiness basically indicates the borrowerā€™s repayment capability, or if we can say mitigating oneā€™s probability to default. Most of the important financial transactions nowadays take Credit Score into account. Home buying is one transaction that does not take place without taking Credit Score into account, be it by a bank & finance institution if one avails loans or a developer if one goes without a loan.
ā€œTransacting value of home purchases is very high and thus it is of utmost importance that one studies a purchaserā€™s credit worthiness to ensure they are entering into a safe deal. Developer has to ensure that an individual is capable of securing a home loan or credit for payments towards home construction. It defines the value of the home a purchaser can afford,ā€ says Mehta.
A good credit score ensures:
1.Ā Ā Ā  Sanctioning of home loan
2.Ā Ā  Enhance the eligibility on the back of good and impressive track record
3.Ā Ā  Negotiate a better deal
4.Ā Ā  Procure timely approval / sanctions, etc.
Advantages of Credit Score
While home loans are offered based on various factors, the interest rate may differ based on the specifications and requirements provided by the customer. This is where the Credit Score plays an important role while applying for a home loan. A good Credit Score helps in creating a first impression while applying for a loan.
Home loan providers or financial institutions look at several variables on the credit report, one of them being outstanding debt. The Credit Score offers a holistic view on the financial ability of a customer and hence forms an important element in the process of a home loan.
Various banks & financial institutions may have different internal guidelines about the usage of Credit Scores. They may or may not have a cut-off based on the Credit Score. However, majority of the new loans are sanctioned to customers with a Credit Score greater than or equal to 700. Therefore, higher the Credit Score, better the chances of your home loan getting approved with a competitive interest rate.
This however does not mean individuals with low Credit Scores will not get any loans sanctioned. It is just that their chances of getting a loan sanctioned may be reduced, unless this is backed by a genuine situation which resulted in the lower Credit Score.
How to manage Credit Score?
The importance lenders give to Credit Scores makes it imperative to improve oneā€™s score as it will help determine the cash outflow. Paying your bills on time is the first step towards maintaining a decent Credit Score as delay in payments like credit card dues or other EMIs may have an impact on the Credit Score of the borrower and re-building it into a positive score can be a lengthy process.
Harshil Mehta, CEO, DHFL suggests that one can maintain a good Credit Score by ensuring timely credit card payment as credit card providers regularly send data to credit bureaus which are further assessed by lenders to ascertain a customerā€™s credit worthiness. One should therefore make a list of all accounts and check recent statements on a regular basis to determine how much is the outstanding balance and the interest rate levied on it. This helps in facilitating a payment schedule/plan that provides an available budget for debt payments towards priority payments.
ā€œA good Credit Score can have a positive impact on the credit profile of the customer. It is the first step towards proving oneā€™s credit worthiness and knowledge of it can be empowering for customers. If the Credit Score is low, one can take steps to improve his credit worthiness and if it is high it can be used as leverage to save oneā€™s hard earned money while applying for a home loan,ā€ says Mehta.
Vineet Relia, Managing Director of SARE Homes also agrees that credit worthiness is extremely important because a low credit rating would mean the person will not be eligible for a loan from banks and other lending agencies. In such a scenario, if any lender does advance a loan, it will be at a higher rate of interest and on more stringent terms, which may make it difficult for the home aspirant to opt for such a loan.
ā€œCredit worthiness is not determined only through home loan EMI payments. Personal and vehicle loans, payments on credit cards and other outstanding amounts with lenders are all taken into account to determine credit worthiness. Moreover, even late payments and subsequent fines can impact a personā€™s credit worthiness. It is therefore important to ensure regular and timely payments of all dues,ā€ advises Relia.
Credit Score Assessment
Excellent Credit Score (760-850) ā€" This level of Credit Score will have no impact on your interest rate. You will likely be offered the lowest rate available
Very Good Credit Score (700-760) ā€"This Credit Score may have a minimal impact on your interest rate, though not in all the cases. At the max, you could be offered interest rates 0.25% higher than the lowest available
Good Credit Score (660-699) ā€" A Good Credit Score may have a small impact on your interest rate. This means rates up to 0.5% higher than the lowest available are possible
Moderate Credit Score (620-660) ā€" Moderate Credit Score is the beginning of suspicion and it will affect your interest rate. Banks & financial institutions may offer rates up to 1.5% higher than the lowest available
Poor Credit Score (580-620) ā€" With Poor Credit Score very few will offer you loans and that too with rates 2-4% higher than the lowest available
Very Poor Credit Score (500-580) ā€" Chances are very less to get a home loan with such score and if some NBFCs offer you that will cost you too highĀ 
Precautions for credit worthiness
One must try to maintain a good balance between secured loans and unsecured loans. While a secured loan improves the Credit Score, high number or amount of unsecured loans can affect adversely. One should always take care of regular and timely payments as this also indicates oneā€™s financial health and stability. Maintaining high credit card bills & dues are a negative on the overall score as it indicates oneā€™s financial stressed state and thus reduces the liquidity which directly impacts fresh loan or new purchase enduring capability.
Credit worthiness of a homebuyer is reflected by his individual Credit Score which can be obtained from credit bureaus like CIBIL and Equifax. These credit bureaus have large databases of individual borrowers, various types of loans they have availed from banks and financial institutions besides their repayment behaviour. Credit bureaus use this data to determine the credit score of home buyers which in turn is used by banks and financial institutions to establish the credit worthiness of home buyers.
Credit utilisation, mix of secured and unsecured loans, enquiries of loans etc. impact the credit scores of an individual. This is besides strong repayment and timely settlement behaviour which has a positive bearing on the credit score. It is also advisable to have a higher concentration of secured loans like home and auto instead of unsecured loans such as a personal loan or credit cards to keep the Credit Score on a higher side.
Individual customers should also try to maintain lower leverage ratio commonly termed as Fixed Obligations to Income Ratio (FOIR) as it points out to the proportion of an individualā€™s monthly income that is being used to pay EMIs. FOIR on the lower side enhances the chances of home loan application approval besides giving an opportunity to negotiate better interest rates while higher FOIR indicates lower disposable income, thus increasing the credit risk for the lender.
A customer should notĀ  pay only pay the EMIs on time to keep oneā€™s FOIR in check and maintain a healthy mix of unsecured and secured loans. They should also repay their high cost loans to reduce the interest burden which reflects on their Credit Score. Establishing credit worthiness is of utmost importance on home buying. More than ascertaining oneā€™s repayment strength, it indicates at probability of defaulting. Thus, one has to take great care of their Credit Score and ensure to maintain a good one. Higher the score, lower the risk.
By: Ravi Sinha
Ā