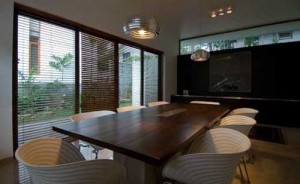 Track2Realty Exclusive: Smart homes in India are coming up with a plethora of new technologies and have begun to find their ways into homes not owned by the richest exclusively.¬†Technology vendors and real-estate players from different domains have started developing solutions capable of being easily integrated into home-environments. IP based technologies are making substantial strides in the area of 'Äėsmart-home'Äô.
'ÄúSmart homes may come at a marginal premium due to the functional technology features bundled in. Owing to a busy lifestyle, the new-age customer demands the latest in technology including security products, home automation products, mood-lighting and scenario products that can be controlled by a mobile phone or computer within the premises of the house or through remote access,'ÄĚ says Anjum Jung, Managing Partner, Morph Design Company.
Indrajit Kembhavi, Kembhavi Architecture foundation adds, 'ÄúTrends include automated openings of gates, doors, etc through biometrics, retina sensors, video walls, and controlled shading devices like blinds, skylights based on climatic/weather intensity, smarter communication and crisis systems.'ÄĚ
Home networking and monitoring systems are the newest additions to the smart home products.
'ÄúThese manage the integrated network between systems such as lighting, air conditioning, phones, security, TV'Äôs, audio-video systems and computers. They not only allow communication between systems, they also produce reports on levels of energy consumption. This lets the owner decide what they can cut back on and will provide them with a measure of how much energy they consume. There have been some appliance level additions also which include air conditioners that can be turned on remotely through cell phones,'ÄĚ says Shiela Sriprakash, Founder, Shilpa Architects.
Rainwater harvesting systems, sewage treatment plant and organic waste converters ensure that smart homes are also green homes. Smart features are necessarily eco-friendly as they help in optimizing use of energy and water through controlled shading monitoring and motion sensors intelligent air conditioners and controlled shading devices do help in reduction of air conditioning load.
Venkat Chalasani, CEO, Samskruti Builders a company that works exclusively on green homes explains sustainability is an important factor. The reduce, reuse and recycle mantra, low carbon footprint, using ecologically sensitive material, sustainable water infrastructure and solar hot water are important aspects. Likewise health is another focus area with organic fresh food, indoor air quality, live walls and integrated landscaped built-up to reduce air and sound pollution.
'ÄúA resilient infrastructure that adapts to failures and addresses future needs/situations as well as connectivity to schools and hospitals as well as access to work/public transport are aspects that are integral to our projects,'ÄĚ says Chalasani.
The design of Tata Housing's Promont property in Bangalore represents a bold new concept for urban living. Exploiting the dramatic natural topography of the site, over 400 individual units are organised with terraced villa units climbing the slopes and stepping up to the crest of the hill where, along the ridgeline, four stepping, landscaped apartment towers will sit within a lushly planted park.
'ÄúWith views out over the surrounding areas this park serves to organise the common outdoor recreational amenity spaces. The property is designed in such a way that every structure and living unit is allowed a generous amount of daylight and natural ventilation. The development will be LEED certified at the platinum level by the Indian Green Building Council,'ÄĚ says Brotin Banerjee, MD & CEO, Tata Housing.
Likewise home accessories might be inexpensive but not that useful in terms of utility.
'ÄúKitchen accessories have become an important part of modern kitchens. Invention of several kitchen accessories is best example of this fact that we are now slaves of technology. For the past few years the concept of a green or eco friendly kitchen has been one that is energy-efficient,'ÄĚ says Pooja Kejriwal of Home Collective.
The cost may be a deterrent, especially in the absence of a holistic growth of urban India but increasingly developers and home buyers are understanding the advantages of witching to smart living.