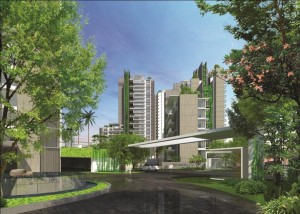 Track2Realty: Tata Housing strengthened its presence in the high-end luxury segment in NCR by launching its 4th project Arabella. Located immediately off the Sohna Haryana Highway, Arabella is inspired by the Aravallis and has been aesthetically designed as an extension to the lush green surroundings.
Designed by renowned architects Perkins Eastman, USA., Arabella is built across approximately 35 Acres and offers 3, 4 and 5 BHK villas right in the heart of Gurgaon 'Äď Sohna Road. Designed with the theme of Aravalli ridge and view of the ridges, Arabella is a Villa development with around 150 villas of typologies.
The location and orientation of villas on the site integrates with the central open green spaces via the backyard or is inward looking; adapted to the traditional design of courtyards. The private lifts, outdoor pools, roof top landscaped entertainment areas, solar hot water heating, VRV air-conditioning, form a part of the everyday lifestyle of India's aspirational Urban Elites.
Commenting on the launch of this project, Tata Housing spokesperson said, "The last decade has witnessed a substantial increase in demand for super-luxury residences which have expansive living spaces and extremely sophisticated design and specifications by the new class of wealthy consumers, popularly known as Urban Elites, who have formed an egalitarian social change. With Arabella, Tata Housing is giving a golden opportunity to their consumers to own their dream villas and experience the mesmerizing views of Aravalli Hills.
Tata Housing Spokesperson further added¬†'ÄúThis will be one of its kind developments at Sohna road offering a different preposition for the new age luxury seekers.'ÄĚ
As the project is inspired by Aravallis, every little detail has been given utmost importance. The project also accommodates a natural lake, a rock garden and a neighborhood farming which helps the residents make a direct connection with the natural surroundings. The most important and unique attraction of this development is its beautiful sitting.