Track2Realty Exclusive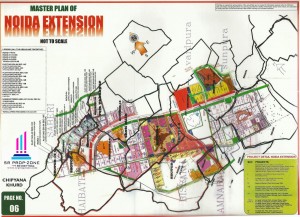 No other residential micro market of India has arguably weathered as many challenges and controversies as Noida Extension. Its inception as a separate zone, other than Noida & Greater Noida, did lend credence to conspiracy theories against the farmers that culminated into land acquisition litigation. Since then it has been a sordid saga of project delivery uncertainties and homebuyers endless wait; not to speak of the additional charges levied as against the compensation amount hiked to the farmers.
Yet, Noida Extension is getting ready to be home to thousands by the end of this year. The well-planned region otherwise, the micro market still stands as a 'Äėno man'Äôs land'Äô with not even an official pin code being given to the place.
From the standpoint of urban planning, it has the higher density of population than Noida or Greater Noida with around three lakh apartments under construction. The basic infrastructure is still very much a challenge and officially it is work in progress in Noida Extension. While the Greater Noida Authority (GNIDA) has laid power cables and built substations, the road network is still in a bad shape for habitation of nearly one lakh people very soon. There is only one school ready and the government officials claim land has been allotted for a few more as well as a hospital.
The GNIDA officials say water supply provisions for individual plot owners are in place, but for group housing societies, it is a builder's responsibility. The industry body CREDAI does not seem to think it is their responsibility to take up the matter with the authorities. As a matter of fact, the CREDAI President Geetamber Anand even refused to speak on whether Noida Extension can be called habitation-ready.
The market is nevertheless going to be the address of those middle class who could not afford in any other part of Delhi-NCR. Most of the developers who started the projects early in the year 2010 are closer to delivery and many of them would offer the possession by early 2016. So, in all nearly 50000 to 60000 flats would be ready for delivery by that time.
In terms of its appreciation potential, the average salaried-middle class homebuyers got a shock in July this year, when the property consultant JLL in a report declared Noida Extension as high-risk zone and advised the homebuyers to stay away. The report had said that with around 2 lakh apartments coming up the market is not likely to appreciate. It seems now that Noida Extension is getting ready to deliver thousand of apartments, the outlook towards the market is changing.
Santhosh Kumar, CEO 'Äď Operations & International Director, JLL India says¬† that with the infrastructure developments happening in the region, and with better connectivity to Delhi and Gurgaon, Noida Extension is ready for habitation. With the rate cuts and cheaper housing loans, demand is going to be high in that region. Both the primary and luxury residential markets segments have high potential.
'ÄúAt current estimates, around 21,000 units should be delivered by the end of the year. However, some projects may still miss the deadline. At a rough estimate, around 15-18 thousand units are likely to be delivered. The infrastructural developments in Noida, Greater Noida and Noida Extension are well planned, with road and metro corridors. Hence, there will not be much impact as far as the load on infrastructure is concerned,'ÄĚ says Kumar.
Nikhil Hawelia, Managing Director of Hawelia Group that is getting ready to deliver a project in Noida Extension early next year is bullish on the market. According to him, going with the present situation a number of developers has already started giving possession of residential units in different projects in Noida Extension. The region is on the fast track of progress. Great connectivity & infrastructure with required facilities have made this region a leading real estate market today. Already near to 300-400 families have moved and living here. At the same time the other related developments which are necessary for a comfortable and hassle free living are taking shape speedily.
'ÄúWith the kind of development taking place in this region, it is undoubtedly all set to become an ideal destination for habitation by addressing all the required necessary facilities for a community living. Currently, basic daily needs are being addressed but it will take another 10-12 months for major facilities to be fully functional in the area. As of now, receiving a courier to your home address is a challenge in the existing scenario. Local transport facilities from authorities and state government are still not functional. Installation of a landline phone connection or internet facilities which are the necessity of today'Äôs modern habitable living are still the concerns,'ÄĚ admits Hawelia.
Urban planning fundamentals suggest that for a city to grow as a residential or commercial hub and to lure its potential customers, there is the need to set in place its basic infrastructure and facilities which are the factors considered pivotal in decision making. Can Noida Extension be termed as investment magnet from that given benchmark? The opinion is divided but on paper there is definitely detailed planning of infrastructure, including the road connectivity network, sewage & sanitation, electrical, etc.
The developers active in the market assert that with a lot of developments across various sectors, and metro connectivity to all key destinations, this region will not add up to the load on infrastructure. They maintain it will become one of the fastest developing sub-cities in the NCR. Also in line to the residential developments, the required commercial developments, educational institutes, health & medical facilities and office & IT spaces are already part of the planning by GNIDA.
On the eve of festive season, as many of the homebuyers were evaluating their work-life balance post shifting to the new homes in Noida Extension, there came another blow to dampen the spirit. The Allahabad High Court ordered the demolition of numerous realty projects launched by various real estate developers including Supertech, Amrapali and Jagat Taran. The demolition of the high-rise building projects located in the Patwari Village of Greater Noida came in light of the fact that they are situated nearby graveyard areas, which according to the High Court, is illegal and therefore stand to be demolished accordingly.
The final vote of confidence, if not verdict, on Noida Extension is yet to come. However, within the built environment of Indian real estate everyone continues to whisper that Noida Extension has been a thriller micro market that has scripted many thickened plots.