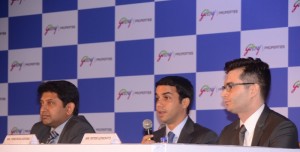 Godrej Properties has announced that it has sold over 200 apartments, with an area over 400,000 sq. ft. in just three weeks at the launch of its residential project, Godrej Icon, in Sector 89A/88A, Gurgaon. Spread over 9 acres, Godrej Icon consists of 9 towers including a 32 storey Iconic tower.
Godrej Icon will offer various amenities including a modern 17,000 sq. ft. club house and infinity pool, 130 feet high skywalk, services by Club Concierge, Four Fountains Spa and Holyfield Gyms. The skywalk at 130 feet features a jogging track, yoga and meditation centre, party deck, zen garden and an observation platform.
Sports facilities such as a squash court, a tennis court, a basketball court, and a cricket pitch will also be part of the project. Customers will benefit from a school as well as retail spaces planned within the project. Â  Â  Â Â 
Pirojsha Godrej, Managing Director & CEO, Godrej Properties, said, "We are happy to receive such a strong response for Godrej Icon, our fifth residential project in Gurgaon. We will make every effort to ensure we live up to the expectations of our customers by successfully delivering an outstanding project."
Godrej Icon is designed on the principle of sustainability. GPL will use eco-friendly materials and will integrate environment-sensitive passive architectural solutions to minimize the carbon emission associated with the development. Features like rainwater harvesting, solar heating and lighting will be incorporated in the project design. Furthermore, more than 80% of the project will be covered in landscaped gardens and open spaces.
The location offers excellent connectivity and is approximately 1.5 km from the Dwarka Expressway and 400m from Pataudi road. The site is strategically located in the high growth corridor of Gurgaon urban area and is also well connected to the Airport, IFFCO Chowk and the commercial hub of Gurgaon.
Godrej Icon is being developed as a joint venture with Oasis Build home Private Limited.
 Source: Track2Realty