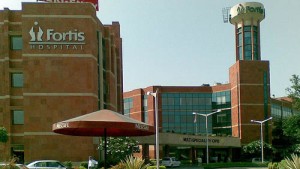 Fortis Healthcare (India) Ltd. plans to raise as much as $500 million by hiving off some of its properties into a real-estate investment trust, or REIT, and listing it in Singapore, according to the sources close to the development.
The Indian hospital-chain operator has hired Citigroup Inc., Nomura Holdings Inc., Royal Bank of Scotland Group PLC, Standard Chartered PLC, and Religare Enterprises Ltd. to manage the issue, they said.
Fortis Healthcare has begun preliminary work and the real-estate trust could be in place as early as the July-September quarter, they said. The company has been looking to grow in India through acquisitions and by adding hospital beds as it seeks to benefit from the increasing demand for quality health-care from an affluent middle class.
A REIT is a business trust that allows investors to directly invest in a portfolio of real-estate assets. Such a listing by Fortis Healthcare would make it the second Indian company to do so after Indiabulls Properties Investment Trust raised $165 million in October 2009. It would make it the first Indian healthcare company to package its properties into a REIT.
Fortis currently plans to raise as much as $500 million, said the source, adding that the size could change with evolving market conditions.
Singapore is the base of operations for Fortis Global Healthcare Holdings Pte Ltd., an entity set up by Fortis Healthcare's founders, the Indian billionaire brothers Malvinder Mohan Singh and Shivinder Mohan Singh.
The Singh family has been projecting Fortis Global as the entity for international expansion following an aborted bid for Parkway Holdings Ltd., Singapore's largest hospital chain. In July 2010, Fortis Healthcare bowed out of a bidding race for Parkway and sold its stake of about 25% to Malaysia's sovereign wealth fund Khazanah Nasional Berhad, which made a general offer for the Singapore firm.
Fortis' Singapore venture follows a spate of recent business-trust deals in the island nation, including Mapletree Commercial Trust's $1.54 billion REIT listing earlier this month and Hutchison Port Holdings Trust's $5.4 billion initial public offering via a business trust. There are more in the pipeline, including Perrenial China Retail Trust's plans to raise as much as $840 million through a business trust.
The activity highlights Singapore's focus on matching Hong Kong's dominance in the equity capital markets by making rules more attractive for fundraising through REITs and business trusts.
While Hong Kong has REITs, it limits public listings by other kinds of trusts. As a result, business trust and REIT-fundraising activity has focused on Singapore, which now has 25 REITs valued at $30 billion, against Hong Kong's seven worth $13.5 billion.