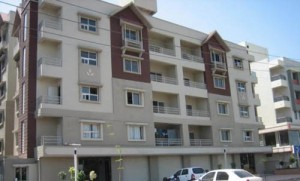 Fire Capital has entered into a 50:50JV with Tamil Nadu based Omshakthy Agencies (Madras) Pvt Ltd to develop residential projects and townships in and around Chennai. The JV has been named as Omshakthy FIRE Realty Private Limited.
The two parent companies have set a target to make Omshakthy Fire Realty a Rs.700Cr entity in 3 years.
Fire Capital Fund Mauritius Pvt Ltd, Â the private equity fund focusing on the Indian housing market, has earmarked $121-million (around Rs.596 crore) fund would enable the company to invest around $200 million (around Rs.983 crore) including co-investment options, in the Indian real estate business.
After announcing its strategic partnership with Chennai-based real estate developer Omshakthy Agencies (Madras) Pvt Ltd, Om Chaudhury, founder and CEO, FIRE Capital Fund, said, "This is the fifth township project we announce in India and in all these projects we have an equity of 50 per cent or more. We have a target to complete development of 50 million sft housing area in India in next 10 years."
FIRE Capital Fund, which focuses on suburbs of metro cities and the tier-2 cities to set up large-scale projects in satellite urban villages, currently has a 700-acre project in Jaipur, a 230-acre project in Bangalore, a 152-acre project in Nagpur, and a 139-acre project in Indore.
It has entered into a 50:50 joint venture with Omshakthy Agencies, Omshakthy Fire Reality Pvt Ltd, to develop a 4 million sft township project in 75 acre in Chennai, which would have a total investment of Rs.700 crore. The joint venture project would have around 1,300 housing units, said R Ramachanthran, chairman and managing director, Omshakthy Agencies
With this, FIRE Capital Fund would be involved in development of five projects with total project cost of Rs.7,000 crore, which would be funded by the Fire Capital Fund, the partners and partly by the sales revenue of completed units. It has committed a significant amount of the $121 million fund in these projects.
Chaudhury further added that Astrum Homes, a joint venture residential real estate development firm promoted by him, is looking at launching around four to five housing projects in South India within next year. The company has recently announced plans to develop around 32,000 housing units in India for a project cost of Rs.6,000 crore.
"We will be looking at cities like Mysore, Trichy or Madurai and would develop 700 to 1,000 housing units within the city limits. These projects would be typically in an area of around 10-30 acres and we are planning to announce two projects in South this year and two to three in next year," said Chaudhury.
Plans are to develop projects with one million sqft size each in the tier II cities across the country in next three years. Astrum has already announced two projects, one in Panipat, Haryana and one in Amritsar, Punjab. These projects are expected to complete in three years, he added.