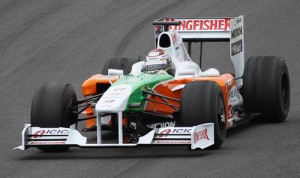 Jaypee Sports International Ltd (JSIL) that will host India's first ever F1 Grand Prix on its track in October this year on Monday said it expects to garner about Rs.150 crore from ticket sales of the race.
JSIL, a subsidiary of Jaiprakash Associates Ltd, will start selling tickets in the next one month at a minimum price tag of Rs.2,500 for the three-day long event.
The company is investing Rs.1,700 crore to build Buddh International Circuit (BIC), the motorsport destination with an expectation to break even in the next four years.
"We are expecting revenue of around Rs.150 crore from ticket sales," Jaiprakash Associates Ltd executive chairman Manoj Gaur said.
The company has not finalised the exact ticket prices yet but said it would be kept moderate to attract people in large numbers.
"We are at the final stages of deciding ticket prices. We want to get as many people as possible to watch the event, so the pricing will be kept moderate. There would be tickets priced at Rs.2,500 for the three day event and upwards," JPSI managing director and CEO Sameer Gaur said.
JPSI has tied up with online portal Book My Show for selling the tickets, which will start in the next one month, he said adding in June-July a mega marketing and promotional event would be launched.
The 5.14 km Buddh International Circuit has a total capacity of 1.2 lakh seats. The race is being held on 30 October, which will be preceded by two days of practice and qualifying sessions.
"Total investment on the BIC is about Rs.1,700 crore, which is a mix of promoters' funds, bank loans and internal accruals form the real estate business," Gaur said.
He said the company expects the F1 project to break even in the next four years and the revenue sources include ticket proceeds and other motorsport events to be held from 2012 onwards.
The company also unveiled a logo of the BIC that has been designed by advertising agency McCann Erickson.
The BIC is a part of Jaypee Sports City spread across 2,500 acres that includes a cricket stadium, a hockey arena and sports training academy.