Track2Realty Exclusive
Bottom Line: Indirapuram property market is a case study for any urban management student as the market is saturated and yet high in demand.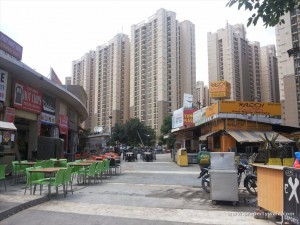 Indirapuram has been the introduction of Delhi-Noida-Ghaziabad to modern living that was till then the privilege of only the luxury buyers of Gurgaon. Most of the residents of Mayur Vihar, IP Extension and adjoining areas of Delhi were exposed to the modern urban housing with club, swimming pool and other high-end amenities in this market. Other residents of Noida and Ghaziabad had till then availed only the plotted developments and apartment with amenities was introduced to them here only.
Welcome to Indirapuram! It is a property market on National Highway 24 that falls into Ghaziabad district of Uttar Pradesh. However, its location has the equidistance advantage with Delhi, Noida and Ghaziabad. Established in 1996 its emergence on the property market landscape in the early 2000 led to homebuyers flocking to this micro market.
Tanveer Alam, a property agent recalls how people started selling their homes that were mostly cooperative housing societies, government housing and plotted developments. Everyone wished to buy an apartment here and avail the kind of amenities that were exclusive luxury for the high-end Gurgaon homebuyers in Delhi-NCR till then.
'ÄúThe best part about Indirapuram was that despite being a part of Ghaziabad it was never like the rest of Ghaziabad. Since the government also wanted to showcase it as the future of the city, the law and order was as good as Delhi. Moreover, the area was a planned development, unlike other competing property markets of the district, like Vaishali, Vasundhara or Kausambi,'ÄĚ explains Tanveer.
However, the rapid developments in the micro market led to inorganic growth of the location where the load on the infrastructure is taking its toll now. One can easily vouchsafe that today Indirapuram has reached to its saturation point by all means 'Äď price point, population density, load on infrastructure and future development potential. The residential property rate that was initially at INR 2,000 per square feet reached to INR 3,000 per square feet in 2008 but now struggles to cross the barrier of INR 6,000.
Nikhil Hawelia, Managing Director of Hawelia Group does not agree that¬† ¬†Indirapuram has reached its saturation point 'Äď both from the perspective of price point as well as new launches. He believes it will be little early to say that Indirapuram has reached its saturation point. Being surrounded by Capital territory 'ÄėDelhi'Äô, Industrial hub 'ÄėNoida'Äô and comfortable linkage to various National highways, it serves as a comfortable address to its residents. Due to saturation in land availability in Delhi, Indirapuram had emerged as a residential town near to the capital.
'ÄúIt is true that once this region has witnessed a glorious picture as one of the hot investment destinations and appreciation in property values. But in the current market situation the clear titled land in Indirapuram is not readily available. The price point in terms of land is already saturated and further increase of the same is least expected in the near future. But due to less availability of the land flats and built up homes may have further appreciation in prices as demand and supply curve has an edge towards the demand,'ÄĚ says Hawelia.
Advantage Indirapuram
Indirapuram has been first planned development of Ghaziabad with good mix up of residential, commercial, retail, institutional, schools & hospitals
Modern amenities were introduced with various housing projects for the first time in the region
Running parallel to NH 24, it provides seamless connectivity to Delhi, Ghaziabad, Noida, Gurgaon and Faridabad
Widening of NH 24 into 14 lane will be icing on the cake of Indirapuram property market  
Most of the analysts in the region believe that the property value in terms of other infrastructure and facilities such as commercial, school, hospitals, malls etc are stable as of now. The area population has been growing remarkably in the current time but no required development is being noted in the overall infrastructure of the area to accommodate it. This is the only concern and alarming factor which will decide the fate of Indirapuram way forward.
Respective authorities and government departments should work on these concerns and rectify such problems so that this area can maintain its status in future. Nearby upcoming residential hubs like Noida, Siddharth Vihar, Greater Noida West etc which have better infrastructure planning are also giving a close competition to the residential market of Indirapuram.
Having said that, the fact remains that there are very few residential markets in India that are attracting the homebuyers despite of saturation, increasing population density and load on infrastructure. This is despite the fact that Indirapuram is not a business destination and is only the residential market that connects well with the other business destinations of Delhi-NCR. What also adds up its attraction quotient is the proposed widening of NH 24 and FNG Expressway (Faridabad-Noida-Ghaziabad Expressway). Collectively, the emerging developments demolish the psychological barrier of the saturation point of the market.
By: Ravi Sinha