News Point: New entity to be named 'Golden Gate|CNTC'; announces a USD $ I Billion investment through the entity that will develop luxury residences in Bangalore and launch its first project 'The Presidential Tower'.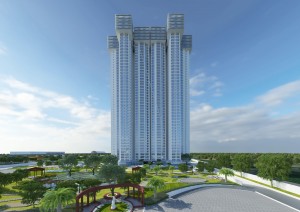 CNTC a Beijing headquartered Construction giant has entered into the Indian real estate space. It has inked a strategic joint venture with Bangalore-based Golden Gate Properties. The newly formed entity will be called Golden Gate|CNTC.
Golden Gate|CNTC will initially embark on two residential projects namely 'The Presidential Tower' with an investment outlay of Rs.1500+ Crore and 'The Grand Tower' with an investment outlay of Rs.1000 Crore.
A 1 Billion USD investment plan for India in the next two years, Presidential Tower is the right start for the JV in India and it envisions to develop more projects in India that will comprise of commercial, residential and mixed use projects.
CNTC – The leading multinational construction company has global interests in large construction and infrastructure projects around the Globe. It has presence in over 35 countries and has a proven record of delivering mega structures like the third tallest tower in the world "Shanghai Tower" with a total height of 632 meters, "The Oriental Pearl TV Tower", Shanghai Hongqiao airport in Shanghai, the Russian Federal Mansion in Russia to name a few.
From building the tallest tower in China to contracting for the Olympic stadiums, airports and palaces in the Middle East CNTC has experience in delivering around the globe. The construction conglomerate has a strong vision for the Indian real estate market and has optimistic goals through this JV partnership for its business in India.
Over the next three years, for the two upcoming high-end residential projects, the JV will be managing the investment, construction, operations, contracting and delivery. For this, the JV has established a fully functional real estate company headquartered in Bangalore.  "The Presidential Tower will be the tallest building in Bangalore, towering at 50 floors located at the highest growth corridor of the city, Yeshwanthpur, close to metro station.
Speaking at the launch, Shi Hui, Vice Chairman, CNTC, says, "We are very excited to enter India through our partner. We have been studying the India Market for the last 2 years, before taking the plunge into India. With CNTC we get world class technology coupled with best ethical business practices. While considering our entry strategy; Bangalore City's highest cosmopolitan index, stability and growth factors were quite fascinating; hence we chose to invest at this top growing city in the world."
"We see promising opportunities in India and in particular Bangalore. Through this JV we want to capitalise on this huge opportunity and Bangalore being a "world class city" there will be a lot of growth in the years to come for this city. CNTC worldwide strives to deliver high quality projects and strongly feel that we have the best partner with us to realize our vision," adds Hui.
Sanjay Raj, Co-promoter of Golden Gate, stated, "We will now have a concrete future plan of expansion and delivery. Our local experience is the right match to leverage the strengths of CNTC. With CNTC's alliance and expertise, we jointly will set new benchmark in the Real Estate Industry. Our partnership will kick-start with two Milestone projects, The Presidential Tower (TPT) and The Grand Tower. Work on The Presidential Tower has started and we are confident that it will not just be a Landmark but also a Hallmark for high quality lifestyle and investment for home seekers in Bangalore."
"Currently we are experiencing the toughest times of our careers, with slow sales and collections, project delays, impact of demonetization, and also simultaneously gearing up for RERA and GST. With our new partners this will become easy as they are used to more stringent practices and the integration will be easier.  Our new JV Company has very aggressive plans for India," adds Raj.
The Presidential tower will be developed on a 5 acres land and is part of a layout that has 85% open spaces. The ultra-luxury residential project is designed to bring new dimension to Lifestyle Living.