Track2Realty Exclusive
Bottom Line: Once the lifeline of the major cities of India, the Central Business Districts (CBDs) it seems are no longer the prime drivers of economic activities.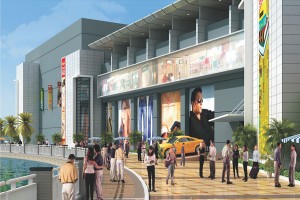 Market analysts maintain that the quality of supply and infrastructure on the outskirts of the cities have changed the market dynamics and today the Peripheral Business Districts (PBDs) are better positioned than the Central Business Districts (CBDs).
It is no longer about the second choice but the PBDs are today the first choice in many of the cities due to quality spaces, infrastructure and lower cost of doing business per square feet.
Are the CBDs really losing out as the benchmark of economic activity in the major cities of India? Well, if only Gurgaon business destinations as against Connaught Place or Nehru Place in Delhi-NCR are any indication, or if only BKC and Navi Mumbai as against Nariman Point in Mumbai is any indication, then the CBDs have lost a significant ground by all means of reputation and economic scale.
For example, if we take up Mumbai as a case study then the ICICI, National Stock Exchange, Reserve Bank of India, diamond bourse, all have set up their offices at BKC. Also, the MCA, Asian Heart Hospital and Dhirubhai Ambani International School, The American Consulate preferred shifting to BKC.
Though it does not mean that Nariman Point has lost its sheen completely, but it is no more viable for most of the small businesses to operate over there. At the same time for large corporates it is no more the status symbol to have their offices in Nariman Point.
Changing market dynamics
PBDs are preferred over CBDs due to quality spaces, infrastructure and lower cost of doing business per square feet
The infrastructure & quality of spaces in most of the CBDs are not in sync with today's needs
The quality of supply and infrastructure on the outskirts of the cities have changed the market dynamics 
Kishor Pate, CMD, Amit Enterprises Housing maintains that different cities display different trends on this front. In Mumbai, the overpriced CBDs drawing power has shifted to better-facilitated areas like Bandra Kurla Complex (BKC). Also, traditional CBDs tend to have older buildings with less amenities, so PBDs with better stock tend to draw a lot of the demand now.   
'ÄúMultinationals tend to take up space in peripheral business districts if a city presents¬†a multi-faceted proposition for commercial real estate. As such, office space of every description is always in demand in PBDs, simultaneously driving job creation and generating residential demand. Employment catchments that generate a maximum number of jobs in support services for SMEs, trade or transportation companies will also yield a demand for homes in the affordable range because the employees draw relatively modest salaries,'ÄĚ says Pate.¬†
'ÄúIf we consider that PBDs are cheaper for corporates and also give them the option of lower property rates, larger floor-plates in better-appointed buildings and faster access to cost-effective residential neighbourhoods, then it can certainly be said many of our PBDs are doing better than the traditional CBDs,'ÄĚ says Yogesh Mehra, CEO & Co-founder, YOLO Homes.
Anuj Puri, former Chairman & Country Head, JLL India believes that more than the CBDs or the PBDs, it is the Secondary Business Districts (SBDs) that is commanding the maximum demand across the country. He maintains that most demand for office spaces is coming from SBDs. The locations needs to be close to residential catchments and also infrastructure such as roads, airports and public transport nodes are important.
'ÄúSBDs are seeing the major traction in terms of rental appreciation and space take-up, and are driving home demand. Most infrastructure projects that have come up in recent times have favoured the suburbs but there are still no projects which connect the central city areas in cities like Mumbai, Delhi and Bangalore,'ÄĚ says Puri.
A section of urban planners even believe that the traditional CBDs were designed by the town planners who had no exposure to the international CBDs. The businesses then were local and catered to an economy with a GDP of 1 per cent of that time. Now India is a global economy, with GDP expectations in double digit, the major cities have no option but to adopt to the global design and modern spaces. It is hence no surprise that the PBDs are in many cases the first choice for the multinationals and high profile businesses.
Going forward, the CBDs need to reinvent the outlook with redevelopment and upscale look & feel with top of the line amenities to bounce back. Till then the PBDs have an edge over the CBDs, if not complete dominance.  
By: Ravi Sinha