Vibrant cities for vibrant economy-IX
By: Track2Media Intellisearch
Track2Media Rank-8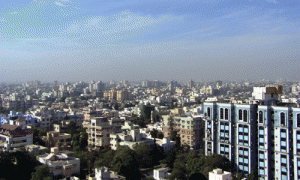 Ahmedabad stands out as a city that weathered the market slowdown most smartly and the property market of the city was the first in the country that showed signs of recovery by June 2009 itself. Since then realty in Ahmedabad is back and booming, with nearly 35% appreciation. The high economic growth and rate of urbanisation, along with the improvement in infrastructure in the state, have been catalysts in the growth of the real estate market. And the boom is not restricted to the western side of the city alone–properties across the city, irrespective of location, have witnessed a steep rise in prices
Gujarat is seeing its best decade ever, and city of Ahmedabad is poised to become one of the fastest and most forward cities of the nation. Even with the hike in prices of land, construction cost and repo rate hike, the real-estate market of the city is still attractive for national and international investors, proving that the city is unaffected by the momentary road blocks
"If you compare the pre-slowdown prices with the present ones, there has been an increase of about 22-25%. However, if you consider the cumulative rise in prices since the worst phase of the downturn, the increase has been almost 35%," says Suresh Patel, Gujarat Institute of Housing and Estate Developers (GIHED) President.
The Gujarat Government envisages Ahmedabad as a world class city. In pubic-private partnership, it is looking to upgrade the city to make it, clean, viable and self sustaining. The size of the residential market in Gujarat has been estimated at over Rs 1500 core per year.
Since the beginning of the year 2011 Ahmedabad realty market saw positive economic sentiments coupled with improvement in enquiries that stimulated city's retail market segment. A report by Cushman and Wakefield confirms this. "Many retailers are anticipating a further improvement in consumer spending and have started executing their expansion plans. As a result, the city recorded a rental growth of 7-11 per cent across most micro markets," the report says.
The real estate trend in Ahmedabad indicates that the property prices will continue to rise at a very alarming rate. Demand for property is unlikely to saturate in this city even in the distant future due to its ever increasing value as a major commercial and industrial hub and contributor to the Indian economy. The strategic vocational advantage, superior infrastructural facilities and great potential for development of privately promoted ports are all contributing to the city's glory.
The demand-supply mismatch also indicates the potential of boom in the city. Of the total 1, 30,000 houses that are said to be needed for Ahmedabad residents, only about 35,000 are created each year. The increase in property rate in both commercial and residential sectors is only reflective of the industrial growth that the city has seen lately.
Ahmedabad has, of late, attracted hectic commercial real estate ventures that include mixed-use realty that entail business, entertainment and hospitality projects. This promises to become one of the hottest real estate markets in the coming year. These complexes span across several thousands of square feet and offer a wide variety of facilities to residents of the city. Developers are recognising the commercial value of real-estate in Ahmedabad, and are adding to the 80% commercial-rich city-centre with ventures such as malls and hypercities.
Jaxay Shah, President of the Confederation of Real Estate Developers Association of India (CREDAI), Gujarat, also acknowledged the same and said that the higher GDP rate in the state and the infrastructure available have lent a boost to the market. There still remains a lot of scope for the real estate industry in Ahmedabad, he says.
Areas that were hardly urbanised till 5 years ago are now booming, with residential and commercial projects mushrooming in localities such as Bodakdev, Satellite and SG Highway. Though most developments are taking place in the Northern and the Western parts of the city, the central Ahmedabad with areas like, Paldi, Navrangpura, Ashram Rd, Vasna and Usmanpur are also catching up with realty developments. With continued preference for established main streets in the city, areas like SG Highway and Satellite Road remains the most preferred main streets in Ahmedabad, with the latter witnessing the highest rental value growth.
Ahmedabad commercial real estate is still on infant stage and is developing in and around C.G Road and Ashram Road, along with the old city area. Staying in step with demand, the present supply of commercial space is determined to be 0.3 million sq. ft. with an absorption rate of 60-65%. However, the market is expected to zoom in the wake of new construction activities. Ahmedabad, which did not witness any new mall supply in 2010, has been catching up fast in the year 2011 and is expected to add millions of additional retail pace in 2012 as well.
This commercial city of Gujarat is likely to grow by leaps and bounds in the next few years. The old city area and Sahibag, located north of it, are regarded as the old residential areas. Western side of Ahmedabad is gaining popularity as new residential areas, between Inner ring road and C.G. Road, such as Bodakdeo, Satellite, Vejalpur, Jodhpur, and Vastrapur.
As Gujarat gears itself to becoming one of the most economically rich states of India, buyers are keen to invest and seem to have faith in the overall growth of real-estate in Ahmedabad. Since 40% of the realty market share of Gujarat belongs to Ahmedabad, the city is evidently a hotbed for commercial and residency projects and remains as one of the most infrastructure-rich areas of Gujarat. Ahmedabad also enjoys a very strong connection with Gujarati NRIs, whose spending power and industrial skills have encouraged a healthy shift in property rates of late.
Advantage Ahmedabad
Most resilient market
Aiming to be a world class city
High growth & urbanization
Improved consumer spending
Gujarati NRIs