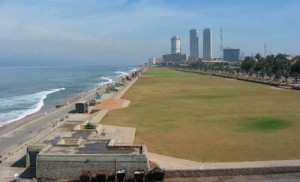 Track2Realty: Tata Housing, has announced the launch of its mixed use township at Colombo in Sri Lanka. The project in partnership with UDA (Urban Development Authority) of Sri Lanka will commence its operations with starting construction of residences for rehabilitation of the current tenants in the phase one and also launch a mix use development project at slave Island in Colombo. The company will invest over $ 400 million for the project.
The Sri Lankan Urban Development Authority (UDA) have rehabilitated the residents of Slave Island till the time of the completion of the project and aim to eradicate underserved developments and provide better housing facility to the occupants with over 550 residences. The rehabilitated occupant will have condominium ownership and privilege of mortgage facility by ownership.
In the luxury project, the project will have estimated 4 residential towers (each tower consisting of 36 floors) and approximately 650 units comprising of one, two, three, four bedroom units and duplexes and penthouses. It will also feature a commercial retail area, a commercial office space and business hotels and service apartments.
Commenting on the announcement, Brotin Banerjee, MD and CEO, Tata Housing, said, "Tata Housing clearly recognizes the opportunity for long term and sustained growth in the Sri Lankan housing market. Our investment represents our strong ties with our neighbours and urban renewal within prime locations of the country. We assure the Sri Lankan government of world class infrastructure aligned to growth needs of their economy. Our association is an endorsement of the Tata trust that holds strong globally."
Nimal Parera, Chairman, UDA (Urban Development Authority) said, we are extremely glad in partnering with Tata Housing to pilot the first redevelopment project under the PPP model which provide a better quality of life for the current tenants of slave island. We are sure that the experience of Tata Housing and their thrust on quality would result in this project to be a landmark in Colombo."
Under the new project the current tenants will have access to a completely new environment enhancing the standard of life with proper ventilation, sanitary facilities and Lifts along with open spaces for the occupants. It will also provide better roads, better drainage, security and other benefits of modern living with amenities like gymnasium, community hall, children's play area.