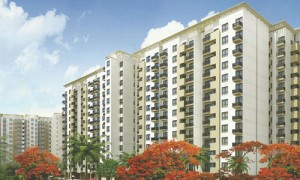 Realty major DLF has begun selling homes in south Bangalore for prices starting at Rs.28 lakh compared to the Rs.70 lakh-plus starting price for most of its flats, echoing a trend it has stayed away from for years.
The company has recently moved away from selling apartments to plots to improve profit margins and devise a way to offload land it doesn't plan to develop as it struggles to cut debt.
This year DLF has largely launched plotted development projects in multiple locations, restricting residential sales to luxury apartments in Chennai and villas in Shimla.
Most real estate developers in India started focusing on so-called affordable housing and flats priced between Rs.20 lakh and Rs.40 lakh around three years ago after demand fell in the wake of the global financial crisis.
DLF, which had a net debt of around Rs.21,524 crore as of June-end, said while announcing its first quarter earnings that it intends to cut debt by Rs.2,500-3,000 crore in the current fiscal year.
"The Bangalore project is a sort of test launch after six months of planning," said a senior DLF official, who didn't wish to be identified.
This person admitted that while profit margins are lower at this price-point, companies can still make a success of such projects provided they managed to secure requisite building approvals promptly and then went ahead and delivered the flats to buyers on schedule.
DLF spokesman Sanjey Roy confirmed the launch of the project—700 homes are being offered in the first phase on 10 acres, part of an 84-acre parcel beyond Electronic City, which the company bought in 2007. While DLF will continue to sell its non-core assets, the property developer will look at more such affordable projects to generate quick cash flows.