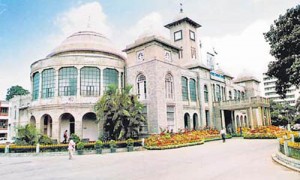 The Bruhat Bangalore Mahanagara Palike (BBMP) has plans of filing a defamation suit against the Confederation of Real Estate Developers' Associations of India (CREDAI), which levelled allegations that bribes are being demanded by corporators.
On Monday, CREDAI called a press conference after BBMP took up demolition work on the ramp of the Mantri Square mall on June 1. The ramp was demolished as the road in front of the mall was set to be widened.
During the press conference, CREDAI members alleged that corporators and MLAs were demanding bribes, and that builders were often easy targets, as they dealt with large sums of money.
CREDAI President Sushil Mantri said that the city's builders faced harassment at the hands of a few corporators. He mentioned that the former opposition party leader M Nagaraj, without any knowledge of the matter, has been targeting Mantri developers, and that Mantri could claim Rs10 crore as compensation from BBMP.
On Tuesday evening a meeting chaired by mayor Sharadamma, involving a number of corporators, discussed the charges levelled by CREDAI.
'ÄúCREDAI members have made serious allegations against corporators, ministers and MLAs, stating that they have been blackmailed and that hafta was extorted. This is a serious matter, and we have had discussions with legal experts. We will take action against these allegations. We have also decided to file a defamation suit against CREDAI members,'ÄĚ said Deputy Mayor S Harish.
In his reactions to the matter, opposition leader in the BBMP, M Udayshankar, said, 'ÄúCommuters face problems as the Mantri Square mall on Sampige Road has aggravated the traffic situation, and local residents have protested in the past. Now, they make all these allegations against corporators. This is worthy of being condemned.'ÄĚ
JD(S) leader Padmanabha Reddy said that CREDAI members should not make vague allegations. They should dare to name the people seeking bribes. 'ÄúCREDAI members should give an unconditional apology to corporators of BBMP,'ÄĚ he said, urging them to fix responsibility by naming those responsible, since the matter was grave.