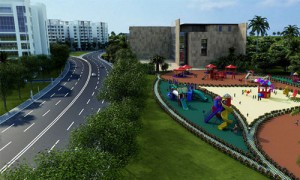 Ozone Group, the Bangalore-based realty developer, is raising a debt of Rs.500 crore from a consortium of banks led by State Bank of India (SBI) for its upcoming residential cum commercial township project – Ozone Urbana, near the Bangalore International Airport (BIAL).
The company is investing Rs.3,000 crore on this new integrated township project, which is spread over 150 acres, S Vasudevan, Managing Director, Ozone Group, said.
"We have already invested Rs.1,000 crore on this project mainly for acquisition of 150 acres land and creation of basic infrastructure. The construction will start from January 2012 on our apartment complex, Urbana Aqua. We have tied up with SBI-led consortium for Rs.500 crore, while the rest of the investment will be generated as and when we sell the property to different buyers," Vasudevan said.
He said the company has raised Rs.1,000 crore from Urban Infrastructure Opportunities Fund, a PE fund set up by Anand Jain, in which Reliance Industries is a majority equity partner.
He claimed that Ozone Urbana is the largest integrated township located on the fast growing corridor in north Bangalore near the international airport. The township is designed to have basic social infrastructure like schools, hospitals, malls, multiplex, clubhouse, gardens and office space for IT and ITeS companies.
The project is divided into three projects – Urbana Meadows, Urbana Aqua and Urbana Greens. Urbana Meadows is plug-and-play model serviced plots for those who would like to design and build their own homes. Urbana Aqua is for those who are looking for their first home with limited budget. It has 280 2&3 bedroom apartments with all amenities.
Urbana Greens is a Vaastu-compliant villa project spread across 26 acres with villas of different measurement ranging from 2,000 sq ft to 6,400 sq ft. Sudarshan K S, chief operating officer, Ozone Group said the project would have a total area of 18-20 million sq ft once completed.