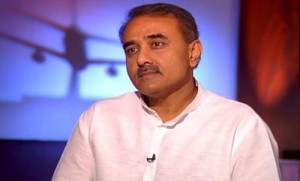 A Nagpur-based real estate developer Gopal Kondawar has sought action against former civil aviation minister Praful Patel squarely blaming him for pushing the national carrier to bankruptcy during his seven year tenure in the ministry.
In a letter faxed to prime minister Manmohan Singh on Monday, Kondawar has urged him to order a CBI inquiry against Patel. He alleged that because of total mismanagement of the civil aviation ministry during Patel's tenure that things got from bad do worse and today the national airlines is finding it difficult to even pay salaries to its staff.
"Late JRD Tata who so fondly created Air India and took it to glorious heights as world's top airline must be turning in his grave at the miserable condition that it has now landed in. The CAG has also raised serious doubts over Patels' decision of merging Indian Airlines and Air India. Members of parliament have also demanded a white paper and a JPC probe into the affairs of Air India whose accumulated losses had mounted to over Rs 7,000 crore in 2008-09," said Kondawar in his letter.
Stopping operations in busy and profitable domestic routes, not using bilateral agreements with countries to start overseas flights, placing of large orders for new aircraft from Boeing and Airbus when Air India could ill-afford it, were among the issues that need to be probed, he said.
"Unmindful of threat of a major coalition partner (DMK) pulling out of the UPA, the prime minister gave clearance for action against telecom minister A Raja when allegations of corruption in 2-G spectrum scam were raised. I am hopeful that the PM will show the same courage in ordering inquiry against Patel who belongs to the NCP," said Kondawar.
Once the biggest land bank owner in the city, Kondawar suffered a huge setback after the Mihan project failed to take off at the expected pace. "Patel's announcement that Boeing was starting its MRO in Mihan has not materailsed till date. It was just an eyewash," wrote Kondawar demanding that Patel be kept out of the cabinet of ministers till investigations against his role as aviation minister are completed," he said.