News Point: Paradigm Realty group in collaboration with Dotom Realty launches its project 'ÄėAriana Residency'Äô at Borivali East, Mumbai.¬†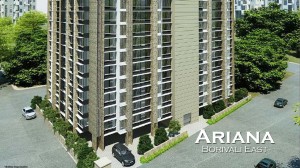 Set amidst well-manicured landscaped gardens, this well-planned gated community project features uniquely styled interiors where sprawling spaces meet minimalistic style offering a breath-taking view of the Seraphic Sanjay Gandhi National Park from each apartment.
The project being stationed at the heart of Borivali East will be a phenomenon spot because of its close proximity to commercial destinations like Andheri, Goregaon and Malad.
The availability of metro lines in Borivali is sure to comfort people with hassle-free commute. Considering its strategic location, the project will predominantly become one of the ideal and preferred choice amongst the potential homebuyers.
Ariana Residency will comprise of  400 apartments sprawling across four wings each comprising of twenty one floors with the provision of 1 and 2.5 BHK budget homes taking the affordability factor of buyers into consideration.
The Environs are bedecked  with prestigious schools, hospitals, recreation parks, Malls & Super Market for retail therapy, bestowing the benefaction of standardized living at an affordable price.
Parth Mehta, Managing Director, Paradigm Realty says, 'ÄúWe are focusing on the budget¬†homes,¬†which are affordable for¬†the common man. Our approach concentrates on perfect planning, designing, constructing and making premium project.¬†We also make¬†sure that our projects are providing all the¬†necessary¬†amenities as well as and construction quality on time.'ÄĚ
In this naturally striking setting Ariana has added the finishing touches of detailed amenities that can be appreciated to the fullest. This uber chic project bestows buyers with various state-of-the-art amenities like Wi Fi Enable Health Club, Three High Speed Passenger elevators, Adult Sitting Area, Children's Play Court, Yoga Zone, Landscaped Garden at Podium Level to name a few.
The area also offers stupendous connectivity with other parts of Mumbai and the location is sure to emerge as one of the most preferred location and gem destination in times to come, thanks to its easy access and commutability to the western suburbs and Gujarat Highway.