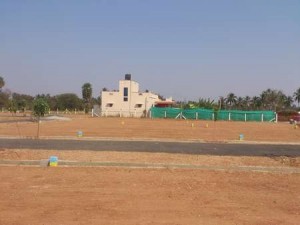 Track2Realty Exclusive: Once known for cotton cultivation, Annur is fast changing its outlook as cotton cultivation has taken a back seat in the last over a decade due to high cultivation cost and uneconomical operation arising out of poor marketing infrastructure. The region nevertheless holds tremendous potential to emerge as one of the key real estate hotspots in time to come.
It is losing on cotton business though and the factors that hindered cotton tract expansion are scarce labour as it is not a rewarding job for the local youth. Analysts believe the change has been visible in the last few years, and the suburb today does not look like complete industrial belt.
Annur is a suburb of Coimbatore situated north-east of the city. It is nearly 33 kilometers from central heart of the city Gandhipuram. The Coimbatore International Airport is about 27 kilometers and in terms of rail connectivity the Coimbatore Junction is about 32 kilometers from Annur. Does not it sound like a real estate goldmine in terms of its strategic locational advantage?
Annur indeed has the vantage point from property market stand point. It is located between Coimbatore City and Sathyamangalam. Annur lies on the junction of three important roads, NH 209 (Coimbatore-Bengaluru), Annur-Avinashi Road and Annur-Mettupalayam Road to north east of Coimbatore City. Annur is surrounded by other suburbs of Tennempalayam, Kanjapalli, Sarkarsamakulam (S.S. Kulam), Karumathampatti.
The name Annur is believed to have been come from 'Vanniyur', later transformed to Anniyur and now to Annur. The myth behind the name says that, over 1000 years ago, when a small hunter hit a stone under a 'Vanni' tree, it started bleeding. He was astonished and called the village people to look after this issue. Later they found a 'Suyambu' Lord Shiva Idol there and built a temple.
As of 2007 India Census Annur had a population of 18,242. Its gender demography has been among the best in the country. Males constitute 45 per cent of the population and females 55 per cent. In terms of its administrative status, Annur is a Taluk administered by Panchayat President through the council of Panchayat members elected by the people. Annur was earlier part of the Avinashi Taluk and now part of Coimbatore North Taluk. On 9 May 2012, Government of Tamil Nadu announced that it will bifurcate Coimbatore North Taluk to create the new Annur Taluk.
Annur is one of the fast growing suburbs in the Coimbatore Rural District with its sound business acumen, well connected roads to nearby towns like Mettupalayam, Avinashi, Tirupur, and Sathyamangalam. Diverse business opportunities made it one of the hot business centers and real estate targets.
Though there is a visible de-growth, Annur still commands a sizeable presence in the indigenous areas of cotton (textile) value chain. Annur has traditionally been a regional hub for cotton ginning and spinning industries and a major contributor to the state's GDP.  Along with Tirupur and Coimbatore (where the other links of textile value chains are concentrated), this part of India has been a prominent player in national and international textile markets.
 Other engineering industries like high precision steel works are also adding Annur's image as the industrial belt of the State. But what is remarkable in the last few years is the phenomenal growth of infrastructure, education, health care, and the taluk is suddenly blossoming into a sought after destination.
In terms of social infrastructure also, the region has scaled up pretty fast. Annur today has a number of basic to advanced healthcare facilities. The government hospital is located on the Coimbatore Road. Besides this, many private hospitals also exist. Most of the hospitals are on Coimbatore Road. Home for children and Adults and a Rehabilitation Home for Mentally ill people is 6 km away from Annur Srimugai Road.
What is all the more surprising is the fact that all these developments have not affected the property prices of Annur yet. Though some of the developers have spotted the goldmine that lies ahead and they are acquiring large tracts of land, the apartment culture is by and large not made inroads here.
Most of the residential options are either in the form of plots or independent villas. As per the listed properties in this market a plot of 1000 sq feet is available in the range of Rs. 4-6 lakh; while the built-up villa of 1000 sq feet is available in the range of Rs. 25-30 lakh. The future appreciation potential is manifold and Annur is yet to see the first rush of property boom.