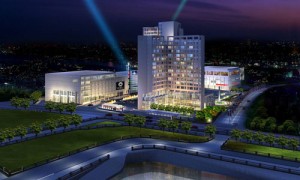 Alpha G:Corp on Monday, September 17, unveiled 'AlphaOne', the largest mixed used city centre in Ahmedabad. Spread across an area of over 1.2 million square feet, the city centre will house some of the biggest brands in retail and entertainment in the country including Lifestyle, Cinepolis, Shoppers Stop, and HyperCity, among others.
The initial investment for AlphaOne, Ahmedabad is over Rs.360 crore for Phase – 1 with hypermarket, big-format retailing, standalone boutiques, world's 2nd largest operator of the 6-screen multiplex, hospitality and F&B including one of the largest and choicest food courts in India. The retail development will also cater to daily shopping needs, varied cuisine, fine dining and entertainment.
Talking about the launch of AlphaOne, Prodipta Sen, Executive Director, Marketing (Corporate Affairs and Retail), Alpha G:Corp, said that the developer had set up innovative systems and procedures based upon sustained research from the time the project was finalised.
"According to our research, consumers in Ahmedabad seek value by way of memorable experiences. This spirit and its results will be evident in the coming times. We look forward to great success in this venture for each person present here. With its unique and constant evolving offerings, AlphaOne, Ahmedabad will catch the imagination of Ahmedabad and surrounding areas. For the Amdavadis, we have decided that we will keep on bringing new international, national and regional brands to AlphaOne," Sen added.
The mixed-use development comprises retail, entertainment, and hospitality. Of these, retail cum entertainment alone will comprise of 720,000 sq. ft.
"AlphaOne Ahmedabad will see an integrated mix of all categories like hypermarket, big-format retailing, departmental store, specialty dining, stand-alone boutiques, a 6-screen multiplex by Cinepolis, a premium hotel managed by Ista, and one of the largest food courts in the city. Among brands, Hypercity will occupy the largest space of 140,000 sq ft," said Sen.
With over 80 per cent of the city centre being leased out to prominent brands such as Shoppers Stop, Hypercity, Cinepolis, Madura and Lifestyle, the AlphaOne, Ahmedabad has been designed and conceived by ARCOP architects firm.