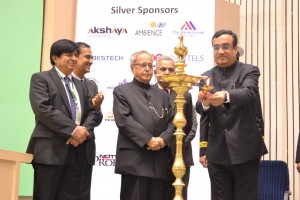 Track2Realty Exclusive: Some analysts are of the view that in some other sectors people are vocal because they come from very powerful political background and are second generation entrepreneurs. Then, they are active at the federal level without any structural defect where policy at centre might help at some level and hamper at some other state level. Automobile policies, for instance, are framed for across the country.
Sunil Dahiya, Senior Vice President of industry body NAREDCO admits that if real estate has not been that vocal and pro-active on policy advocacy, it is because every policy will have 28 rules and regulation across the country. So, every rules and regulation deployed will have 28 different effects for the sector.
While a single solution is not possible, yet since the realty product is needed across the country, there is an urgent need for brainstorming as to how a customized policy advocacy for each region as a chapter and a common goal at the national level is achieved.
"Policy advocacy can only come out when there is a single consensus. We have been successful in drawing a single consensus around the Regulator Bill by discussion with stake holders in the state chapter. The draft has been carefully amended to protect the interests of all the stake holders in consultation with Consumer Helpline, Jaago Grahak Jaago, CCI, Finance Ministry, Housing Secretaries from states, ED, DRI, CREDAI, NAREDCO along with delegates from across the country. The draft has now gone to the standing committee of Parliamentary Affairs. So, our policy advocacy brought on the table aspirations of various stake holders and now it is going to the Parliament for debate," says Dahiya.
However, fact remains that all the stake holders were taken on board on the issue of regulator because the ministry took the initiative, while modalities were being debated within the sector ever since government came out with the idea of having a regulator.
Moreover, the Centre's plan to regulate the developers has already hit a road block with several states opposing some provisions of the proposed bill. The proposals of a central regulator actually snowballed the issue like the NCTC (National Counter Terrorism Centre), and the Centre having no choice but to drop the provision of giving direction to the states under the Real Estate (Regulation and Development) Bill.
The school of optimism within the sector cites another case study to put forward the point that the sector is on its growth trajectory with policy advocacy. According to them, on the issue of much desired Single Window Clearance a committee has been formed under the ex Chairman of CCI, Dhirendra Kumar at the behest of the industry bodies, including CREDAI and NAREDCO.
The bodies are advocating for one department in all states to act as a nodal point for all online clearances in a time frame, instead of today's multiple NOC regime. It once again raises the very same question—will states agree to it?
Policy advocacy optimists have it that it has to be promulgated at the Ministry of Housing level with a financial rider. State governments having wish list of grant and financial package from Centre will have to agree on that.
Arvind Nandan, Executive Director, Consulting Services, Cushman & Wakefield is candid enough when he says any talk of policy advocacy is meaningless unless the government is a willing party to come on board for dialogue and discussion. Developers alone can't take policy advocacy forward because they have been a partner in crime with project delays and illegitimate source of funding in the sector.
"The idea behind policy advocacy must be to bring government and private players together for meaningful dialogue and discussion for the benefit of all stake holders, including the consumers. What is happening actually is that sector lacks vision on reforms and hence policy means different things to different stake holders. There are developers, financers, facilitators, occupier
Even when you say land owners, it can be either a developer or agriculture land owner, and to bring everyone on board for consensus you need credible industry forums. I am not sure unlike other industries a standalone face can represent the sector, since there is no superstar or charismatic leader in the sector today," says Nandan.
No superstar to represent the sector, no consensus over its wants and needs and no sympathy in the collective consciousness of other state holders, including buyers and government; will all the builders' bodies continue to flex muscles with money power yet function as a toothless tiger? Well, if lobbying of powerful players for individual interest continues and if the sector by and large resists a common meeting ground then policy advocacy is a far cry in the sector.