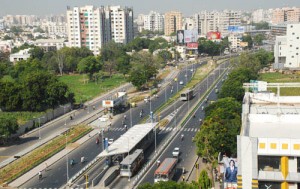 Track2Realty Exclusive: At a time when the buzz word across the country has been the inevitable reality of urbanisation and the need to create smart cities the urban planners are wondering which are the Indian cities that can claim to be close to the desired smart index. More importantly, which are the cities that have managed urban development along with the pace of business and economy to emerge as the truly developed cities with self sustaining physical and social infrastructure that could be a magnet for big ticket investment?
The answer to many such urban aspirations is the State of Gujarat which has been among the first to focus on the urbanisation and the need to adopt the technology for managing the urban living. As a matter of fact, it is not one or two cities but multiple cities of Gujarat like Ahmedabad, Vadodara, Surat among others that have the smart quotient in its DNA itself. And that has made the State of Gujarat as a symbol of development model worth emulating.
It was hence not surprising when Legatum Institute's Global Prosperity Index 2012 recognised Gujarat as the highest-scoring among all States of India on matters of social capital. The State ranked 15th in a list of 142 nations worldwide and actually ranked higher than several developed nations.
Recently during his visit to the State, Indonesian acting Consulate General Hariyanta Soetarto found Gujarat such a magnet that he expressed interest to sign Sister City Agreement. A proposal for the same is being made and seventeen clusters have been identified which are common between Gujarat and Indonesia. The real estate is hence sensing a big time bonanza ahead.
In the economic growth story of Gujarat figure describe the facts and those facts speak for themselves. Over the past decade Gujarat has seen rapid economic growth and has often been described as the red hot economy. Driven by massive industrialisation and urbanisation, the State's economy has sustained a growth momentum of double digit per year – above the Indian average of about 8.25 per cent.
Gujarat is one among the six Indian states to have maintained a 10 per cent plus growth rate in the period from 2004-12. On top of that list is Uttarakhand at 13.2 per cent, followed by Bihar at 10.9 per cent, Maharashtra at 10.7 per cent, Tamil Nadu at 10.4 per cent, Haryana at 10.1 per cent and Gujarat at 10.08 per cent.
As a matter of fact, Gujarat became a revenue-surplus state in FY 12 and the State has made remarkable progress from revenue deficit of Rs 6,732 crore in year 2001-02 to revenue surplus of Rs 4,602 crore. This has been achieved by relying on more efficient tax collection, which in turn relies on increased use of technology without raising tax rates. Most of the government expenditure has been on capacity building programmes and with a superior credit profile the yields on Gujarat State Bonds are one of the lowest among the states in India. CARE ratings endorses these statistics saying Gujarat has successfully implemented the recommendations of the Sixth Pay Commission, while adhering to the Thirteenth Finance Commission and the Gujarat Fiscal Responsibility Act.
Vivek Sahasrabudhe, Analyst – Research & Real Estate Intelligence Service with JLL India makes it a point when he says that with improved infrastructural facilities, many new manufacturers of automobiles, engineering and instruments have established themselves in the city and existing industries have been expanding their plants, especially on the outskirts of Ahmedabad in Sanand and Changodar. To support the manufacturing hubs, logistics activity has also been growing fast.
"Newly generated employment has looked at organised real estate to fulfil its housing needs as prominent developers have been offering small ticket size affordable dwellings in the outskirts of the city. Another growth driver relates to the fact that Gujarat is part of the Delhi Mumbai Industrial Corridor (DMIC), which is an ambitious project aimed at developing industrial zones. Ahmedabad is anticipated to be an important link in this corridor. The city is expected to create more jobs, attract investment and ultimately generate greater housing needs. There will be no surprise if other cities in Gujarat follow Ahmedabad's example in the coming years," says Sahasrabudhe.
The market watchers maintain that the evolution of Gujarat as a vibrant economy has its genesis to the growth of the industrial sector in the State. Gujarat is the second-most industry-friendly state, according to a Planning Commission sponsored study. Gujarat's land acquisition model ranked top in a commerce ministry-sponsored study.
The State provides good infrastructure with regular power and excellent road and port networks. Gujarat enacted a separate legal framework – the Special Investment Regions (SIR) Act in 2009 to develop specialized industrial zones in the state (an SIR is much bigger than an SEZ and is not just export-focussed). The first SIR is being set up at Dholera, near Ahmedabad. Gujarat is also a major stakeholder state in the DMIC project and the work in Gujarat is running ahead of schedule.
The share of the manufacturing sector in Gujarat's economy rose from 22 per cent in 1993 to 28 per cent in 2013. During the same period, the share of the manufacturing sector at an all-India level rose from 15 per cent to 16 per cent. Gujarat has put an emphasis on developing small and medium-sized enterprises (SMEs) through policy initiatives that offer interest subsidies, venture capital assistance and quality certification. The Government has also focused on emerging sectors (nano-technology, biotechnology, non-conventional energy sources) and focused on a cluster development method.
Despite this success of industrialisation, the economy of Gujarat has significant agricultural contribution as well. Agriculture production, which was at Rs 9,000 crore in year 2001-02, has been gone up to Rs 1,12,000 crore in the last fiscal. Despite its semi-arid climate, Gujarat has been able to achieve average agricultural growth of over 9 per cent in the last 10 years compared to all-India average of 4 per cent. Gujarat also invested heavily in the construction of major and medium-sized canal irrigation projects (such as the Sardar Sarovar project), encouraged water harvesting and micro-irrigation (created a special purpose vehicle to promote micro-irrigation, which has covered over 700,000 hectares of land).
The urban planners are hence endorsing the Gujarat model of urban development to understand how the proposed new smart cities should be conceptualised. After all, Gujarat is poised to take over as India's IT/ITeS destination pretty soon and the real estate that till very recently was weighing options with the cost-benefit analysis of developing IT/ITeS spaces has suddenly gone over-board in terms of shifting focus on the technology spaces.
For instance, a few months back Tata Consultancy Services (TCS) launched a software development facility in Gujarat's capital, Gandhinagar.  A Special Economic Zone (SEZ), the campus will serve global customers across industry segments. TCS Garima Park will have a 10,000-seat campus, spread over 25.5 acres.
Similarly, Gujarat International Finance Tec-City, better known as GIFT that is under construction is being built on 986 acres with the purpose of providing high quality physical infrastructure (electricity, water, gas, district cooling, roads, telecoms and broadband) so that finance and tech firms can relocate their operations over there from IT hubs like Mumbai, Bangalore, Gurgaon.
In terms of policies, Gujarat has been front runner in facilitating the rise and growth of technology. As a matter of fact, Gujarat emerges as a state that consciously aspires to be a high tech zone. The State Government is taking special interest in shaping Gujarat as the IT destination.
"There was a perception that there cannot be enough growth in IT without adequate knowledge of English language and Gujarat is behind other states because of this.  But this perception is changing with the state leading in IT applications especially e-governance," Narendra Modi recently said at the launch of TCS SEZ. The urban management, governance and vibrant economy of Gujarat with seamless integration of technology is definitely giving a tough competition to the traditional IT/ITeS destinations like Bangalore, Hyderabad, Chennai, Gurgaon and Pune.