Track2Realty Exclusive
Bottom Line: Developers from Mumbai, Pune and many other parts of the country are finding Ahmedabad property market to be a happy hunting ground.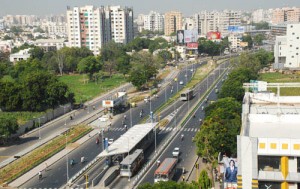 Real estate is predominantly a micro market driven business and even the largest of the developers are often grounded in their home turf. Most of the realty brands have evolved in their own given geographical locations first before they branched out to other locations for expansion. Such expansions have also been more of metro centric.
There are very few case studies where the developers have flocked out to cities on sheer promise without registering their presence in the four metro cities. However, such migration to magnet territory is today quite visible in Gujarat where the developers from other states are increasingly flocking, most notably in the city of Ahmedabad.
Real estate developers from Mumbai and even Delhi-NCR are increasingly looking for greener pastures in and around the city of Ahmedabad. Whether it is a realty giant like Hiranandani or Ajmera or an emerging player like Grih Pravesh Buildteck, they are all gaining ground in Ahmedabad property market today. While expat influence is a known reality of Indian property market with expats emerging as a key home buyer, Ahmedabad is today witness to another set of expat influence – that of developers.
The developers have their own reasons as well. Some find the land prices attractive at this level, while the others find the approval mechanism conducive; Some are driven by the Gujarat growth story, others are goaded by the political reasons. But almost all these developers whose roads lead to Ahmedabad maintain that the overall eco system in the State is much better than other parts of the country.
Niranjan Hiranandani, Chairman, Hiranandani Group says the developers are bullish about Gujarat property market with arrays of infrastructural projects in the pipeline. Projects like Delhi Mumbai Industrial corridor (DMIC), bullet trains, metro rails, setting up of manufacturing SEZs, Dholera SIR, GIFT City, Port development, Smart Cities like Surat will boom the growth prospects in State of Gujarat. All these opportunity makes Gujarat State safest and bullish market for investors.
"State Government of Gujarat has ensured regular supply of basic amenities required by industries to set up their plants and other establishments.  State Government furnishes with continual power & water supply, better connecting roads, great infrastructure, set up strong telecom & fiber optical networks magnetizes corporate to draw their projects in the region to augment the project viability," says Hiranandani.
Extremely bullish on his choice of future location, Abhay Kumar, CMD of Grih Pravesh Buildteck believes Dholera will lead the pack and the corridor from Dholera to Ahmedabad and Dholera to Bhavnagar area would see the maximum investment. These corridors look best for realty development because there is going to be most infrastructure support by government as it has got good connectivity and trade potential.
"Numerous developers are showing interest in Gujarat basically due to low cost availability of land and ease of doing business. By nature Gujaratis are law abiding and peace loving people and they have an attitude of non interference which makes this State a unique proposition for investment. Over and above Prime minister's interest to develop this State as the best example for attracting investment; this has generated lots of interest among developers to move to Gujarat for launching their projects," says Abhay.
Neeraj Tomar, Head – Ahmedabad, JLL India agrees that a large numbers of developers are looking to invest in the Gujarat market and are eyeing categories like industrial parks and commercial office projects. This market is still not perceived as expensive. The government is also acting as a catalyst and is providing all support in terms of developing the requisite infrastructure.
"The slowdown era vis-à -vis the Indian economy is diminishing slowly and the winds of change are in the air. With these changed sentiments all across the country, Gujarat will also have to carve out for its share of investments over the long term. The current scenario for Gujarat indicates that it has an advantage, but the challenge will be sustaining it over an extended period of time. Investors are always on the lookout for good investments, irrespective of physical boundaries. The principal fundamentals for attracting investments are fair valuations, expected returns on investments and risk management. Given the current scenario, Gujarat is figuring well on all these parameters," says Tomar.
Gujarat can become an example for other States on how government can create room for investment. Analysts point out that to attract investment there is requirement of CCL- Corruption control, Clearances by government and Law & order and Gujarat is proving to be leading the pack in these benefits.
The developers who have forayed into the City are conscious of the fact that Ahmedabad's real estate market is booming because of the huge growth of its industrial sector and overall high rate of development, fuelling both the commercial and residential properties. This commercial capital of Gujarat is rich in textile, pharmaceutical and chemical industries. Apart from being a well-established education centre Ahmedabad has also established itself as a major IT/ITeS and retail destination. The combination of the favourable factors naturally makes it a highly desirable destination.
Flats, apartments, serviced apartments, bungalows, penthouses and township properties are cropping up all over and the residential development in Ahmedabad is no more only in the form of individual bungalows. Though even today new bungalow schemes can be found on the outskirts of Ahmedabad city, especially along the Sardar Patel Ring Road coming under zones R2 and R3. However, the scarcity of land and expensive real estate prices in the city have brought in the trend of apartment houses in form of high rise towers in the city.
The prime residential areas that many of the expat developers have spotted in Ahmedabad are Shahibaug (in the northern part of the city), Satellite, Bodakdev, Vastrapur, Prahladnagar, Thaltej (in the western parts of the city), Maninagar and areas around Kankaria and Chandola Lake in the southern eastern parts of the city. The growth corridors for real estate development are the SG Road (Sarkhej-Gandhinagar Road), Sardar Patel Ring Road, Maninagar and on the north side of the Inner 132 ft Ring Road in areas like Nirnaynagar and Ranip.
Though locations in and around Ahmedabad are top picks for the expat developers in the State but apart from Ahmedabad, Surat and Vadodara also rank high in the State's real estate sweepstakes. As Gujarat's second largest city, Surat is all set to become an international diamond trading hub. It is located on the Golden Quadrilateral Highway and is well connected to Mumbai and Delhi. These are major magnets for the developers who are flocking to the State. Vesu, Piplod, Pal, Adajan and Varachha Road are the traditional residential destinations, and suburban locations like Bamroli, Khajod, Palsana and Puna Kumbharia Road are coming up.
Vadodara is Gujarat's third largest city and is another preferred emerging investment destination for the developers trying to make inroads into the State. The prime residential areas are Alkapuri, Race Course Road, Old Padra Road, Jetalpur, Akota and Fatehganj.
Gujarat is no doubt a land of opportunities for these developers as it is strategically located on the west coast of India. Gujarat is well connected to the major cities of the world by air and sea routes. Gujarat, with a coastline of 1600 km is well connected to all the major port-based trade routes, such as USA, Canada, Europe, Australia, China, Japan, Korea Gulf & African countries and other major trade cities of the world by air route.
The State acts as a Gateway to the rich northern and central hinterland of India; connecting them via road, rail and air thereby providing immense trading opportunities.