Track2Realty Exclusive
Bottom Line: FNG Expressway has elevated Faridabad market that is predominantly driven by the affordable working class.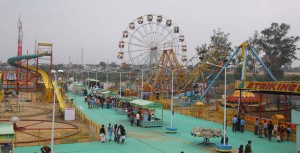 Rakesh Yadav bought his first property at Neharpar, Faridabad at a very affordable rate of Rs. 2000 per square feet in 2009. Still, it is a sort of dead investment for him as of now. Reason: This foreman of a motor workshop that is based in Ghaziabad cannot live over there and travel everyday to work. There are no tenants for the property either.
It is not that Yadav did not know these ground realities, yet his pocket did not allow him to go to any other property market. Even the most affordable locations in and around Ghaziabad would have cost him Rs. 3000 per square feet or more. For an average lower salaried class person like him even a thousand square feet flat was making a difference of no less than Rs. 10 to 12 lakh.
"I bought it at Nehrpar, Greater Faridabad with two things in mind – one is the retired life when I can settle over there and the second is the appreciation till then. Had I waited till my retirement may be I would not have been able to buy at that appreciated value," says Yadav.
However, the analysts who are keeping a close tab on the property market in this part of the world and the infrastructure projects in the pipeline believe this ignorant homebuyer can very soon not only travel to work from home daily but has also hit a jackpot by default. Reason: FNG Expressway or Faridabad-Noida-Ghaziabad Expressway.
The Faridabad-Noida-Ghaziabad Expressway that is 56km long with 19.9km in Noida-Greater Noida, 8km in Ghaziabad and the remaining 28.1km in Faridabad is all set to change the urban landscape of the region. It will not only unlock the land parcels of these regions but also prove to be savior of the working class who buy affordable houses at the fag end of the city. If it is extended till Sohna (which is today being deliberated), its length will be 75 kms and it will further give a boost to the properties of Sohna Road.
Developers, of course, are sensing big opportunity prior to its completion. Vineet Relia, Managing Director of SARE Homes says the FNG Expressway from its very name denotes the high-connectivity boost that it will give to projects and properties that fall within the FNG corridor.
"As per preliminary plans, the corridor will be 56-km long, connecting NH-24 (Ghaziabad) and NH-2 (which connects Delhi and Agra). Two bridges will also be built across the Yamuna River, improving connectivity between Noida and Faridabad. Given these facts, the FNG Expressway is bound to transform the property markets of these areas and their urban landscape," says Relia.
Nikhil Hawelia, Managing Director of Hawelia Group also believes that FNG Expressway will certainly redefine the market dynamics of Delhi-NCR. FNG Expressway is to Noida what connectivity of NH-8 is to Gurgaon.
"The fast forward connectivity will result in more big ticket investment and more economic opportunities which will definitely have a chain effect on the affluence of the real estate market of the area. FNG Expressway will help the lesser value markets to scale up to its value and livability index," says Hawelia.
Once the FNG Expressway is operational, the working population can travel from Ghaziabad to Faridabad in around half an hour without entering into the capital city of Delhi and getting stuck up in traffic. Today, there is chaotic traffic on roads connecting Delhi with Gurgaon, Faridabad, Noida, and Ghaziabad. Daily commuting to work is a nightmare and there is hardly any public transport service for the low-key salaried workforce.
Hours of traffic jam on NH-8 (Delhi-Jaipur Highway), with peak traffic volume of 1.6 lakh vehicles (by 2015) needed a solution and the FNG seems to be the answer.
With Ghaziabad, Noida, Greater Noida, Faridabad, and Gurgaon emerging as major housing zones for the expat workforce in the region, Â smooth connectivity through FNG Expressway is expected to change the dynamics of travelling to work in this part of the world.
Such is the potential of the FNG Expressway that already the newly developing areas of the three cities along the FNG corridor have surfaced as the hot property markets. Its completion on Noida side is over and it is expected to be operation by the next year.