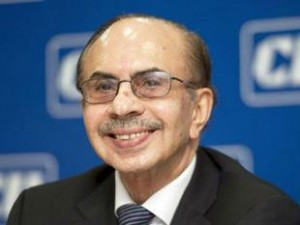 Track2Realty-Agencies:Â India's diversified group Godrej says its fast growing realty estate business could become the biggest venture for the conglomerate in the next 10 years.
"The real estate business is growing much faster than our other businesses. In next 10 years, it will be one of our bigger businesses. Its possible it might become the biggest business," Godrej Group Chairman Adi Godrej told PTI in Johanesburg.
Godrej Properties, the realty arm of Godrej Group, follows a joint venture model with land owners for development of the real estate projects, he added.
Godrej Group has interests in various businesses, including real estate, FMCG, industrial engineering, appliances, furniture, security and agri care.
Established in 1897, the group posted an annual revenue of nearly Rs 22,000 crore in 2012-13 fiscal. Godrej Properties' total income grew by 28 per cent to Rs 1,048 crore last fiscal.
"In our group, we have our growth projection in what we called 10 by 10. The group should be 10 times in 10 years. This we enunciated about three years ago. To be 10 times in 10 years, you need to have a compounded annual growth rate of 26 per cent," he said.
"In the last three years we have grown at around 30 per cent. So we are on track. This year we may grow a little less because economically things are not the best. But overall we expect 10 by 10. Our chemical business is growing little slower," Godrej said.
When asked about its real estate business in India, Godrej said the company has about 35 projects in 12 different cities.
"Last financial year we added eight new projects and this year also we added some," he said.
Godrej Properties has presence in cities like Chandigarh, Kochi, Mangalore, Nagpur, Mumbai, Delhi, Kolkata and Chennai.
Godrej also favoured the real estate regulation bill provided it does not hamper growth of the sector.
"…regulation in some ways is good because it brings some discipline in an industry but regulation is bad if it tries to over control things…I have not got chance to study in details, it is still being looked into but so long as it doesn't interfere with initiative and growth, I think it may not be a bad idea," Godrej said.
Asked about some developers being not comfortable with the proposed law, he said, "There are some issues that I am sure will be taken up".