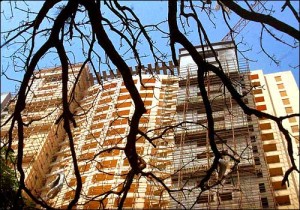 In the wake of Adarsh society controversy the Mumbai government has suddenly woken up to the reality that they don't have authentic records of land ownership and maps of many plots in one of the costliest addresses in India, South Mumbai. The state's urban development department has written to the city collector, telling him to prepare records of ownership of land in Backbay and Nariman Point areas in south Mumbai. The collector has been asked to ascertain the ownership and exact area of each plot using satellite mapping, a senior official was quoted in the media.
"While going through our land records following the Adarsh case, we realised that many plots in Backbay have not been given city survey numbers," the official said. The updated records will be given to the Mumbai Metropolitan Region Development Authority (MMRDA), which is the special planning authority for the Backbay-Nariman Point belt. Similar records are being prepared for Bandra-Kurla Complex, Oshiwara and Wadala areas for which MMRDA is the planning authority, the official said. The collector has been asked to prepare property cards (title of ownership) for each plot and also demarcate boundaries of these plots. "This is necessary to prevent cases like Adarsh," the official said.
There is a dispute over the Backbay plot on which Adarsh society was built because both, the state government and the ministry of defence, have claimed ownership. Chief Minister Prithviraj Chavan has already said that the Central Bureau of Investigation will be asked to ascertain the ownership of the land. The dispute has alarmed state officials. "The defence ministry will also be involved in the procedure to ascertain the ownership of plots in south Mumbai," the official said. The owners — individuals or entities — will be given new property cards for a fee. Many plots at Backbay are on lease deeds that date back to the British Raj.
There are several complex cases where ownership of land is concerned. The settlement commissioner at Pune has the original copies of land records — title of ownership and maps — of the entire state except Mumbai city district. "Original land records are important to ascertain ownership. However, records of land in Mumbai's island city, which has prime real estate, are not maintained by the settlement commissioner but by the Mumbai city collector," the official said. "This will have to change now." The department will soon send a proposal on this to the Chief Minister.